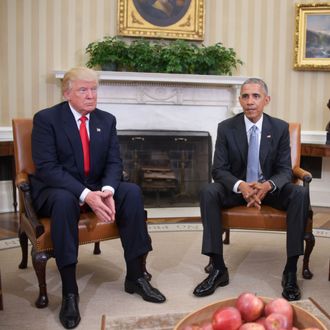 Photo: JIM WATSON/AFP/Getty Images
Donald Trump and Barack Obama met today for the first time. The two men sat in the Oval Office for an hour and a half, according to the Associated Press, and Trump looks forward to seeking more "counsel" from Obama in the future. We can only hope this is true.
Naturally, the sight of these two guys — one of whom, among other things, fanned the flames of an insane movement to convince the nation that the other wasn't really a citizen — sitting down in one of the most powerful offices in the world was, at best, something to behold. And as the old saying goes, a picture is worth a thousand memes. Here are some of our favorites.