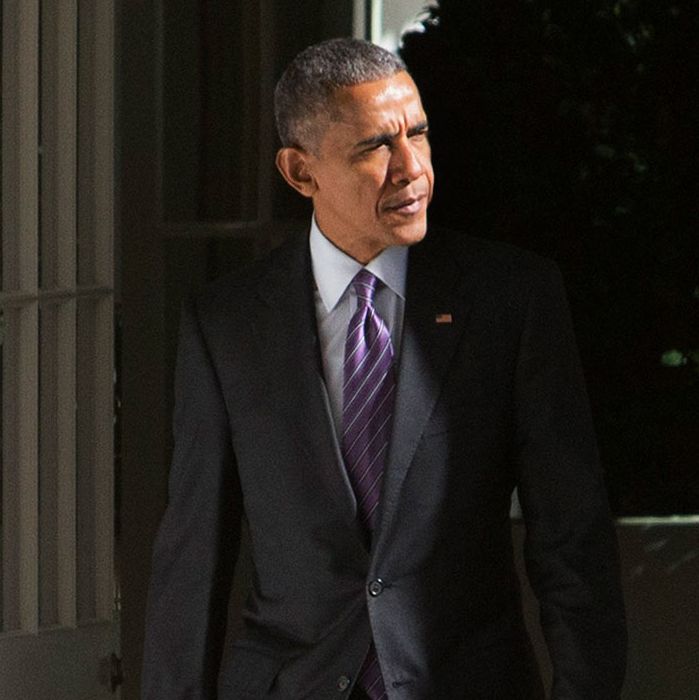 Photo: Chris Kleponis - Pool/Getty Images
Early Wednesday morning, President Obama called Donald Trump to congratulate him on winning the presidency and extend an invitation to meet at the White House on Thursday, White House press secretary Josh Earnest said in a statement. Obama also called Hillary Clinton and "expressed admiration for the strong campaign she waged throughout the country," Earnest said.
Obama wasn't the only world leader to reach out to President-elect Trump. Russian prime minister Vladimir Putin sent a congratulatory telegram that expressed his desire to "work together to lift Russian-US relations out of the current crisis, resolve issues on the international agenda, look for effective responses to global security challenges," according to a press release from the Kremlin.
Many other heads of state weighed in on Trump's win with statements congratulating him and expressing optimism for working together. French president François Hollande was among those to slip a critique of Trump into his remarks. Hollande said Trump's election will usher in "a period of uncertainty" during which "peace, the fight against terrorism, the Middle East and the preservation of the planet" will all be at stake.
Meanwhile, his countrywoman Marine Le Pen, head of the far-right Front National party, was much more upbeat. "Congratulations to the new President of the US, Donald Trump, and the American people – free!" she tweeted. One of her party's vice-presidents also chimed in with a message of support that, given his Front National's fascist roots, is rather chilling.