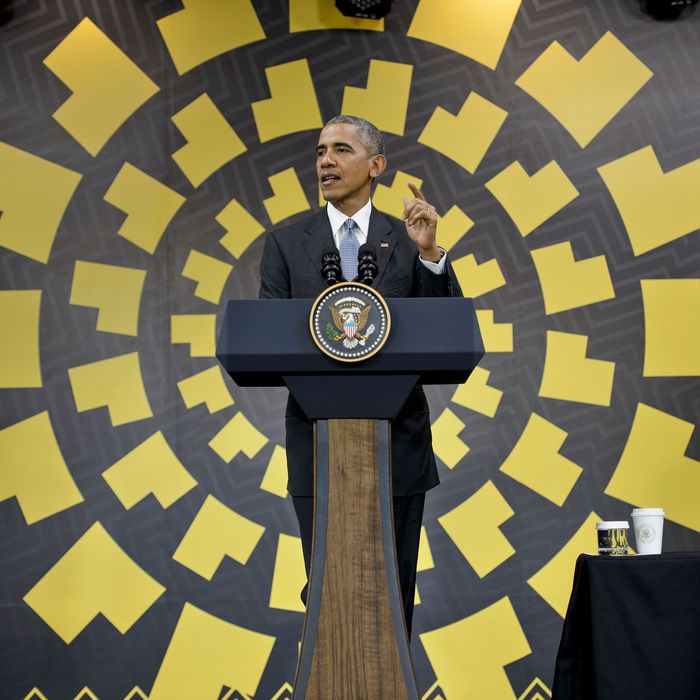 Obama poses in front of a potential design for his Bat Signal.
Photo: BRENDAN SMIALOWSKI/AFP/Getty Images
If President Obama's effort to tutor President-elect Trump doesn't go as he hopes, he has a Plan B. During a Sunday press conference in Lima, Peru, President Obama suggested that he does not intend to follow President George W. Bush's example of stepping away from politics after leaving the White House — that is, if the Trump administration is as bad as people fear.
Noting that President Bush "could not have been more gracious to me," Obama said that after stepping down on January 20, he intends to "be respectful of the office and give the president-elect an opportunity to put forward his platform and his arguments without somebody popping off in every instance."
But he had a big caveat: "As an American citizen who cares deeply about our country, if there are issues that have less to do with the specifics of some legislative proposal but go to core questions about our values and our ideals, and if I think that it is necessary or helpful for me to defend those ideals, I'll examine it when it comes."
Obama stressed that his first priority is to "take Michelle on vacation, get some rest, spend time with my girls and do some writing, some thinking."
Even before Trump's upset, Obama suggested that his post-presidency would look very different from that of his predecessors. In October. he said he would join former attorney general Eric Holder's Democratic redistricting project, making challenging the Republicans' state-level advantage his focus for at least the next few years.
But in an interview with The New Yorker last week, Obama said Trump's election has changed things. "I think that if Hillary Clinton had won the election then I'd just turn over the keys," he said. "We'd make sure the briefing books were in order and out we go. I think now I have some responsibility to at least offer my counsel to those who will continue to be elected officials about how the D.N.C. can help rebuild, how state parties and progressive organizations can work together."
Obama has suggested several times over the past week that he'll join those criticizing President Trump, if necessary. "I'm going to be constrained with what I do with all of you until I am again a private citizen. But that's not so far off," Obama said during a conference call last week with people who have promoted his agenda through Organizing for Action. "You're going to see me early next year and we're going to be in a position where we can start cooking up all kinds of great stuff to do."