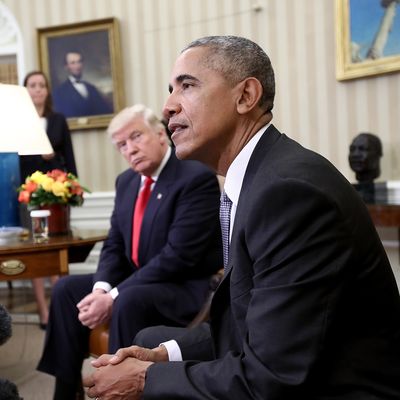 "I'm lending him my box set of West Wing DVDs. He'll be fine."
Photo: Win McNamee/Getty Images
By naming Reince Priebus and Steve Bannon as his top two advisers, President-elect Donald Trump set up a battle between the GOP Establishment and the alt-right for control of his administration — and there may be a third voice whispering in the president's ear. The Wall Street Journal reported on Sunday that President Obama "plans to spend more time with his successor than presidents typically do" because he realized during their meeting last week that Trump "needs more guidance." Per the Journal:
During their private White House meeting on Thursday, Mr. Obama walked his successor through the duties of running the country, and Mr. Trump seemed surprised by the scope, said people familiar with the meeting. Trump aides were described by those people as unaware that the entire presidential staff working in the West Wing had to be replaced at the end of Mr. Obama's term.
One would think that Obama would spend as little time as possible with a man who repeatedly suggested that he's the Kenyan-born founder of ISIS, but what was scheduled to be a 15-minute meeting wound up lasting 90 minutes. "As I said last night, my number one priority in the next two months is to try to facilitate a transition that ensures our president-elect is successful," Obama said.
Prior to the meeting, White House press secretary Josh Earnest said Obama would take the opportunity to urge Trump to keep some of his policies in place — though many could be undone with a few executive orders. He may have had some success. After promising to repeal and replace the Affordable Care Act, Trump told the Journal on Friday that he'd consider keeping two provisions that he discussed with Obama: the prohibition on denying coverage because of preexisting conditions, and allowing children to stay on their parents' health insurance plan into their late 20s.
Trump confirmed that he is interested in keeping those two very popular provisions in his interview with 60 Minutes, which aired on Sunday night. Trump reiterated that he and Obama had great "chemistry," and said he was surprised that there was zero awkwardness. He even heaped more praise on the president:
I found him to be terrific. I found him to be — very smart and very nice. Great sense of humor, as much as you can have a sense of humor talking about tough subjects, but we were talking about some pretty tough subjects.
In addition to Obamacare, those topics included the Middle East and North Korea. On Monday night, President Obama will embark on his last foreign trip, heading to Greece, Germany, and Peru. It was supposed to be a celebratory farewell tour, but now Obama's mission is assuring foreign nations that America will keep its commitments — though, in some instances, Trump has said that it won't.
Trump is not consistent, so by the time Obama gets back, Trump may have decided that he doesn't need the president's help during the nine-week transition after all. But liberals need something to keep them going, and the idea of Obama and Trump forging an unlikely friendship is a more appealing best-case scenario than Mike Pence secretly calling the shots.