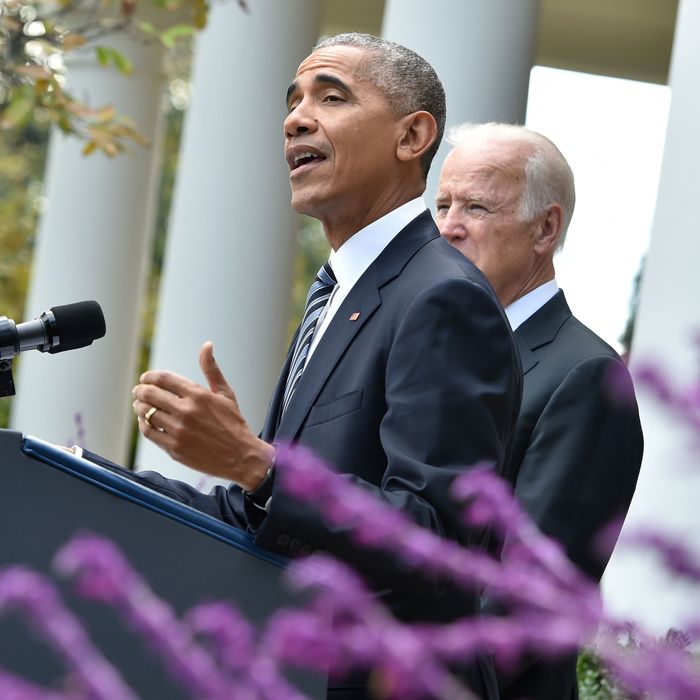 President Barack Obama makes his first address after Trump is elected.
Photo: Nicholas Kamm/AFP/Getty Images
President Barack Obama, speaking at the White House with Vice-President Joe Biden at his side, said he congratulated his successor, Donald Trump, at 3:30 a.m. Wednesday morning. "It is no secret that the president-elect and I have some pretty significant differences," Obama said. "But remember: Eight years ago, President Bush and I had some pretty significant differences. But President Bush's team could not have been more professional or more gracious in making sure we had a smooth transition and hit the ground running."
Donald Trump will visit the White House Thursday, at Obama's invitation, to begin that transition process. "We are now all rooting for his success in uniting and leading the country," Obama said. "The peaceful transition of power is one of the hallmarks of our democracy, and over the next few months we're going to show that to the world."
Obama delivered a reflective and thoughtful address, about ten minutes long, where he promised to assist Trump in the transition, extolled Hillary Clinton for her campaign and service, and called for unity and, with it, healing.
"I could not be prouder of her," Obama said of Clinton.
"She has lived an extraordinary life of public service. She was a great First Lady, she was an outstanding senator of the state of New York, and she could not have been a better secretary of State." I'm proud of her; a lot of Americans looks up to her. Her candidate and candidacy and nomination was historic and sends a message to our daughters all across the country that they can achieve at the highest level of politics."
Obama didn't shy away from the disappointment of the race, but said, despite the differences, America is one team, and the election an "intramural scrimmage."
"We all want what's best for this country," Obama said. "That's what I heard in Mr. Trump's remarks last night, that's what I heard when I spoke to him directly, and I was heartened by that. That's what the country needs: a sense of unity, a sense of inclusion; a respect for our institutions, our way of life, rule of law, and respect for each other."
He added: "I hope that he maintains that spirit throughout this transition, and I certainly hope that's how his presidency has a chance to begin."
Obama was measured on the work of his administration, and his own legacy. He thanked his team for their work, telling them to "keep your heads up" — a nod to Trump's vows to basically begin undoing, with the help of a Republican Congress, Obama's signature achievements. He added that, in smaller and even "obscure" ways, his administration has worked to make "government run better." "That remarkable work has left the next president with a stronger, better country than the one that existed eight years ago."
Obama concluded with what he often does: a rallying cry to and for the American people. "So this was a long and hard-fought campaign. A lot of our fellow Americans are exultant today, a lot of Americans are less so. That's the nature of campaigns, that's the nature of democracies. It is hard, and sometimes contentious and noisy. It's not always inspiring."
Obama decried cynicism, especially for those upset with the outcome. Losing an election is part of it, he summed up, which opened up at least one brief moment of levity between Biden and Obama to remind the nation what it might miss in January:
Obama concluded with one final message of unity to move forward, and to keep fighting. "We lick our wounds. We brush ourselves off," he said. "We get back in the arena. We go at it. We try harder the next time. The point is that we all go forward with the presumption of good faith in our fellow citizens. Because that presumption of good faith is essential to vibrant and functioning democracy. That's how this country has moved forward for 240 years."
"Ultimately," Obama, who left without taking questions, ended, "we're all on the same team."