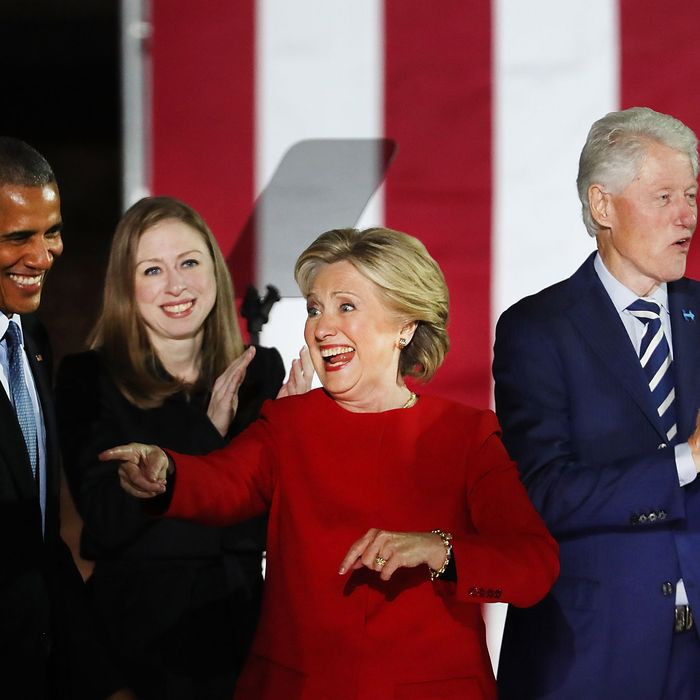 Look up star-studded in the dictionary.
Photo: Spencer Platt/Getty Images
With less than 24 hours to go before Election Night, Hillary Clinton proved on Monday night in Philadelphia that she could still draw a crowd. Or at least, she proved that she could draw a crowd if she appeared with Jon Bon Jovi, Bruce Springsteen, and Barack and Michelle Obama all backing her up.
Many who tried to see the presidential hopeful didn't get the chance, as cars full of would-be attendees lined up for blocks around the venue.
After an opening from Bon Jovi, Bruce Springsteen got the crowd gathered in front of Independence Hall on its feet, regaling them with some of his biggest hits. "The choice tomorrow couldn't be any clearer," Springsteen said. "Hillary's candidacy is based on intelligence, experience, preparation, and an actual vision of America where everyone counts."
Springsteen even changed the lyrics to "Thunder Road" and sang, to cheers: "It's a town full of losers, tonight we're pulling out of here to win."
It was a night designed to please, boasting stars from both the music and political worlds. Clinton had just one more rally planned, for midnight in North Carolina, where she would be joined by Lady Gaga.
Bill Clinton, appearing alongside his daughter, did what he does best. He delivered a soaring, patriotic speech, drawing on Independence Hall for inspiration. "This country began here," he said, calling on everyone to get out and vote "to form a more perfect union."
Michelle Obama, perhaps the biggest draw of the night, spoke proudly of her husband's legacy, saying, "We have a duty to ensure that this country is handed over to a leader that we all can trust."
Next up: President Obama, who showed Springsteen he's not the only one with a catalogue of oldies to repurpose. He led the crowd in one of his most popular chants from 2008: "Fired up, ready to go!"
Finally, it was Hillary Clinton's turn to take the stage. She took a moment to reflect on the negativity of the campaign.
Then, looking out over the massive crowd, she called on voters to "demonstrate conclusively, once and for all, that love trumps hate," and to "get out and vote tomorrow, Philadelphia. Let's make history together."