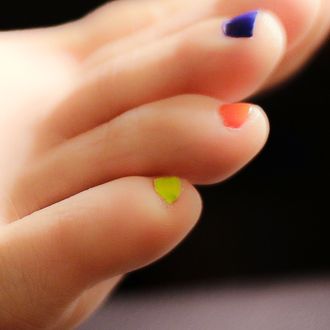 Photo: Adrian Ramirez/Getty Images/EyeEm
It would be almost rude to close out the year without another flare-up regarding the exchange of human remains on Tumblr, the premier social network and microblogging service for the discussion and exchange of human remains. Last year, it was "Boneghazi," in which a self-styled witch admitted to, apparently, collecting bone fragments from a Louisiana graveyard.
This year, it's one user sending another user their pinky toe in order to get it made it into a necklace. (Heads up: This is not a joke and there is a not-too-discomfiting photo of the toe.)
That's nice! Nothing like two people meeting over the internet and one person sending the other a toe in order to get a necklace made.
According to the toe recipient, cummy-eyelids (sorry), the toe was "amputated nearly a decade ago. 2011 was the expiration date of the preservation solution hence why I'm changing the solution and jar for her."
At least one other user is offering to send their own extant body parts.
Uh, so yeah, that's what's happening on Tumblr. Reached for comment, a Tumblr spokesperson said, "We're happy to see how these two have connected over their shared passion."
This post has been updated with Tumblr's official response.