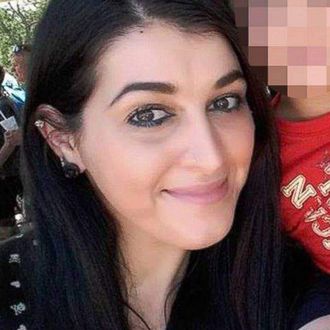 On Monday, officials released the chilling 911 audio of Orlando gunman Omar Mateen after he burst into Pulse nightclub and massacred 49 people. In it, he "pledges allegiance to the Islamic State of Abu Bakr al-Baghdadi," one of many references to the terror group and radical ideology.
But his second wife, Noor Salman, said in an interview with the New York Times published on Tuesday, that she was "unaware of everything" about her husband's plans to attack the night club. "I don't condone what he has done," she said. "I am very sorry for what has happened. He has hurt a lot of people."
This is the first interview Salman — who married Mateen after meeting him through an online dating site in 2011 — has given since the June 12 mass shooting. In it, she admits that she was aware Mateen watched jihadist propaganda videos, but, she says, "The FBI let him go." (Mateen was investigated twice by the FBI in 2013 and 2014; both times federal authorities said he did not pose a threat.)
Shortly after the Orlando shooting, reports surfaced that Salman might have known about Mateen's plan to attack Pulse, and even went with her husband to buy ammunition. That investigation is still ongoing, and Salman, who has a son, now 3, with Mateen, addresses some of those issues in the the Times interview. Here are a few of the things we learned:

Salman did go with her husband to buy ammunition, and she traveled with him to Orlando. Mateen bought ammunition with Salman while the two were at Walmart. Salman told the Times that Mateen, who was then working as a security guard, often went to the shooting range, so she didn't think anything of it. The entire family — Mateen, Salman, and their son — visited Orlando months before the shooting, but Mateen allegedly just told her, "Let's go to Orlando for a drive."
Mateen was reportedly physically and mentally abusive toward Salman. Soon after the Pulse shooting, Mateen's first wife, Sitora Yusufiy, who divorced Mateen in 2011, described her ex-husband as abusive. Salman echoed these allegations against her husband, saying he pulled her hair, choked her, and threatened to kill her. He manipulated her into silence; if she left, Mateen told Salman, he'd get custody of their son.
What happened the night of the massacre. Mateen had finished work on Saturday, June 11, around 3 p.m., and allegedly told his wife he wouldn't be home for dinner. She went to bed, and was woken up around four in the morning when Salman's mother-in-law — Mateen's mom — called, apparently worried. Salman tried to reach Mateen on his cell phone, but got no answer. From the Times:
Finally he sent her a text message: Did you see what happened? She texted back that she had not.

"I love you babe," he responded, the last she heard from him.