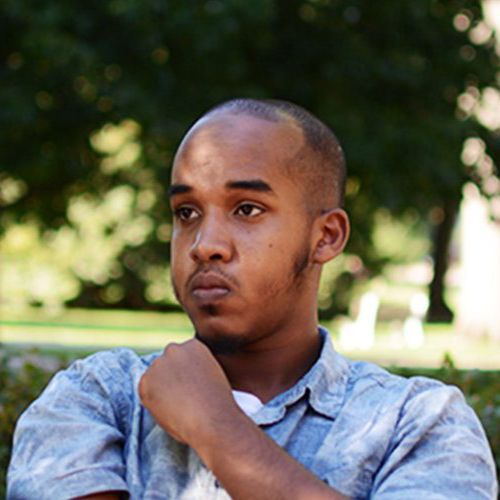 OSU attacker Abdul Razak Ali Artan.
Photo: Kevin Stankiewicz/The Lantern
Ohio State University student Abdul Razak Ali Artan posted heated messages on Facebook sometime before he intentionally gunned his silver Honda Civic toward faculty and his fellow students on the OSU campus, and then tried to stab bystanders with a butcher knife. At least 11 people were injured in the rampage before an OSU police officer fatally shot Artan.
"I am sick and tired of seeing my fellow Muslim brothers and sisters being killed and tortured EVERYWHERE," Artan reportedly posted. According to NBC News, he also made reference on social media to "lone wolf" attacks and to the radical Islamic cleric Anwar al-Awlaki. He also said the human-rights abuses against Myanmar's Muslim population had pushed him to a "boiling point."
"America!" Artan also reportedly ranted, "Stop interfering with other countries, especially the Muslim Ummah. We are not weak."
The Facebook messages will factor into the investigation of the OSU attack and its perpetrator, Artan, an 18- or 20-year-old OSU student and U.S. legal permanent resident of Somali descent. Artan enrolled at OSU this fall, majoring in logistics management, reports the Columbus Dispatch. He reportedly came to the United States in 2014 as a refugee with at least six family members. The family left Somalia after Artan's father was abducted in 2007, living a refugee camp in Pakistan for several years before applying for refugee status in 2012, according to CBS News.
In August, in Artan's first semester at OSU, The Lantern — the university's student newspaper — interviewed him for a "Humans of Ohio State" feature. In that article, Artan spoke of his Muslim faith and his nervousness about praying openly:
"I just transferred from Columbus State. We had prayer rooms, like actual rooms where we could go pray because we Muslims have to pray five times a day.

"There's Fajr, which is early in the morning, at dawn. Then Zuhr during the daytime, then Asr in the evening, like right about now. And then Maghrib, which is like right at sunset and then Isha at night. I wanted to pray Asr. I mean, I'm new here. This is my first day. This place is huge, and I don't even know where to pray.

"I wanted to pray in the open, but I was scared with everything going on in the media. I'm a Muslim, it's not what the media portrays me to be. If people look at me, a Muslim praying, I don't know what they're going to think, what's going to happen. But, I don't blame them. It's the media that put that picture in their heads so they're just going to have it and it, it's going to make them feel uncomfortable. I was kind of scared right now. But I just did it. I relied on God. I went over to the corner and just prayed."
Officials have not classified the OSU attack as an act of terror, though that obviously has not been ruled out. Police are certain Artan attacked alone, but they are investigating whether anyone else might have been involved in the planning.