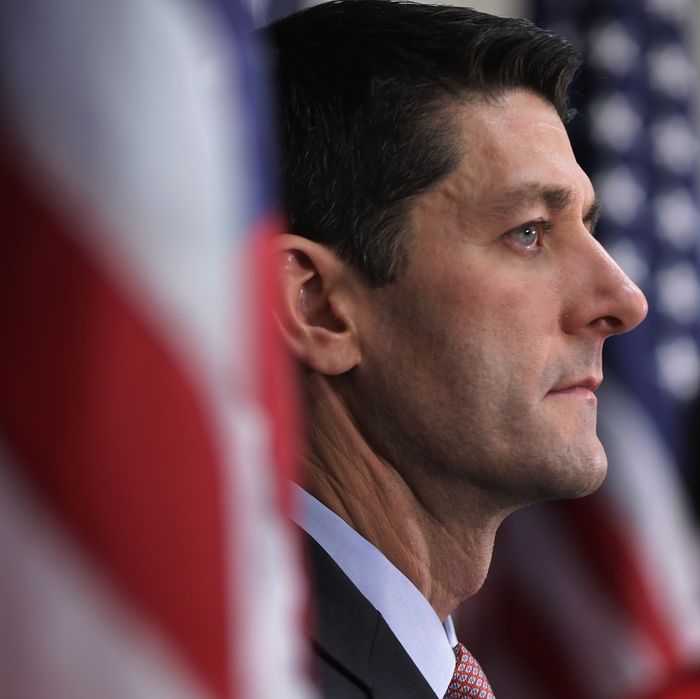 Wherever you're hiding, Medicare, Paul Ryan will find you.
Photo: Chip Somodevilla/Getty Images
During the campaign, coverage of the issues was blotted out by coverage of Hillary Clinton's emails and Donald Trump's broad suite of sociopathic tendencies. And of the issues that did receive any attention, a conspicuously missing one was Paul Ryan's plan to push Medicare beneficiaries into private health insurance. Reporters just assumed that, since Trump never talked about it, it won't happen. But Paul Ryan still wants it to happen. And in a Fox News interview with Bret Baier, Ryan said Medicare privatization is on.
"Your solution has always been to put things together, including entitlement reform," says Baier, using Republican code for privatizing Medicare. Ryan replies, "If you're going to repeal and replace Obamacare, you have to address those issues as well. … Medicare has got some serious issues because of Obamacare. So those things are part of our plan to replace Obamacare."
Ryan tells Baier, "Because of Obamacare, Medicare is going broke." This is false. In fact, it's the complete opposite of the truth. The Medicare trust fund has been extended 11 years as a result of the passage of Obamacare, whose cost reforms have helped bring health care inflation to historic lows. It is also untrue that repealing Obamacare requires changing traditional Medicare. But Ryan clearly believes he needs to make this claim in order to sell his plan, or probably even to convince fellow Republicans to support it.