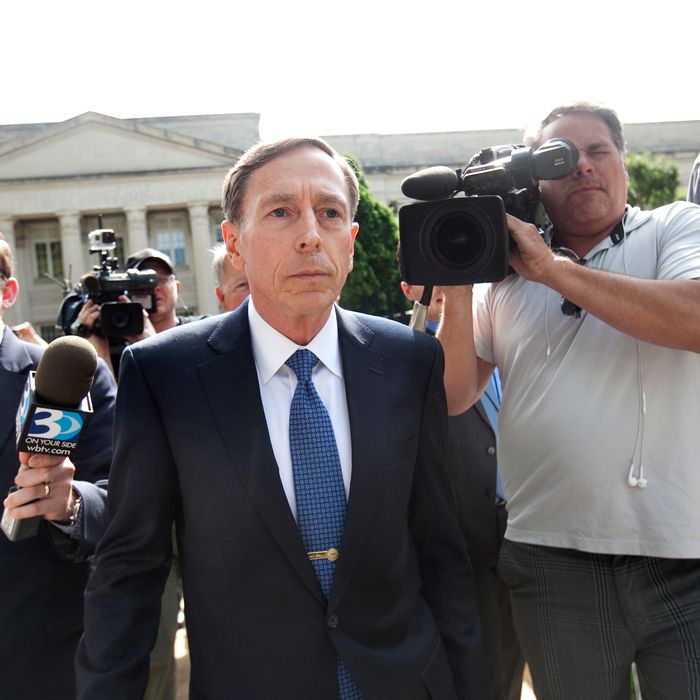 Cleared for takeoff?
Photo: John W. Adkisson/Getty Images
If Donald Trump chooses former CIA director and retired General David Petraeus as the winner of his secretary of State reality show, he'll want to throw in a pardon, too. In 2015, Petraeus pled guilty to a misdemeanor charge of mishandling classified information, which he shared with his mistress. That alone would reportedly require a pardon for Petraeus to assume the role of secretary of State.
But so too would the terms of Petraeus' probation, which, among other things, give his probation officer the right to search his personal and office computer. Unless Petraeus' probation officer has security clearance, that probably wouldn't work. Petraeus is also required to get permission from the officer to leave North Carolina, which could get tedious given the travel required for the job. These conditions of Petraeus's probation were highlighted by USA Today reporter Brad Heath.
Meanwhile, the drama over who will be named secretary of State shows no sign of coming to an end. After a week in which it appeared that a solid four candidates had emerged for the job — Petraeus, Mitt Romney, Rudy Giuliani and Bob Corker — Fox's Bret Baier is now reporting that former U.S. ambassador to the United Nations John Bolton is back in the running.