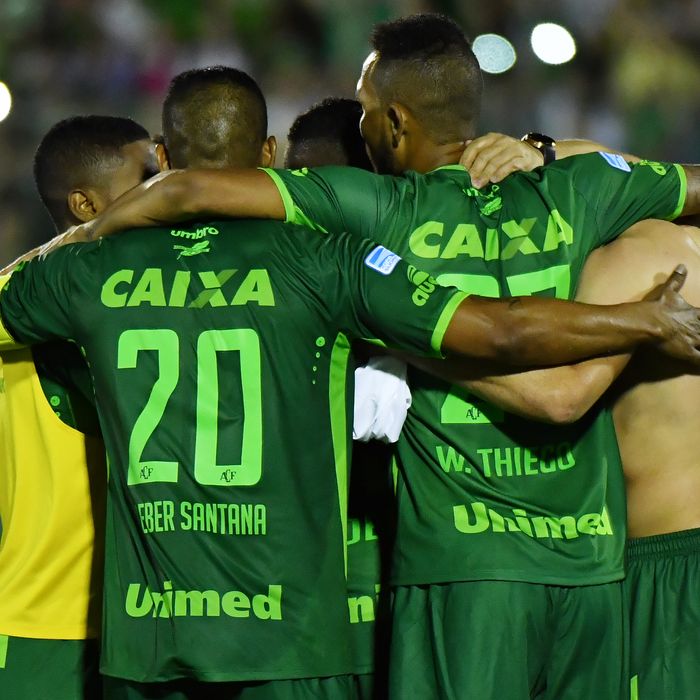 Members of the Chapecoense soccer team were on board when the plane went down.
Photo: NELSON ALMEIDA/AFP/Getty Images
A charter plane carrying 81 people, including players from a Brazilian soccer team, crashed in Medellín, Colombia, on Monday night. Aviation officials say there were six survivors. Among them are three soccer players, two crew members, and one journalist, reports the Associated Press.

The plane was on its way to Medellín's international airport from Santa Cruz, Bolivia, when it crashed in a mountainous area of La Union outside of the city. The British Aerospace 146 short-haul plane, which was operated by a Brazilian charter company, declared an emergency resulting from electrical failure around 10 p.m. local time. It was given priority to land before air-traffic controllers lost contact.
Medellín mayor Federico Gutierrez called the crash "a tragedy of huge proportions." Rescuers quickly headed to the crash site, but heavy rains made the task more difficult. An Air Force helicopter had to turn back because of low visibility. As of Tuesday morning, 24 bodies have been identified.
Brazil's first-division Chapecoense soccer team was on its way to play Atlético Nacional in the Copa Sudamerica finals on Wednesday. "May God accompany our athletes, officials, journalists and other guests traveling with our delegation," the club said in a statement on its Facebook page.
Brazilian president Michel Temer has declared three days of national mourning. Chapecoense, which represents a city in southern Brazil, had long been a bottom-feeder team that had started achieving success in recent years — and the upcoming Copa Sudamericana final match would perhaps have been its pinnacle. The opposing players on Atletico Nacional have called on CONMEBOL, the South American Football Confederation, to name Chapecoense this year's champion in the wake of the tragedy.