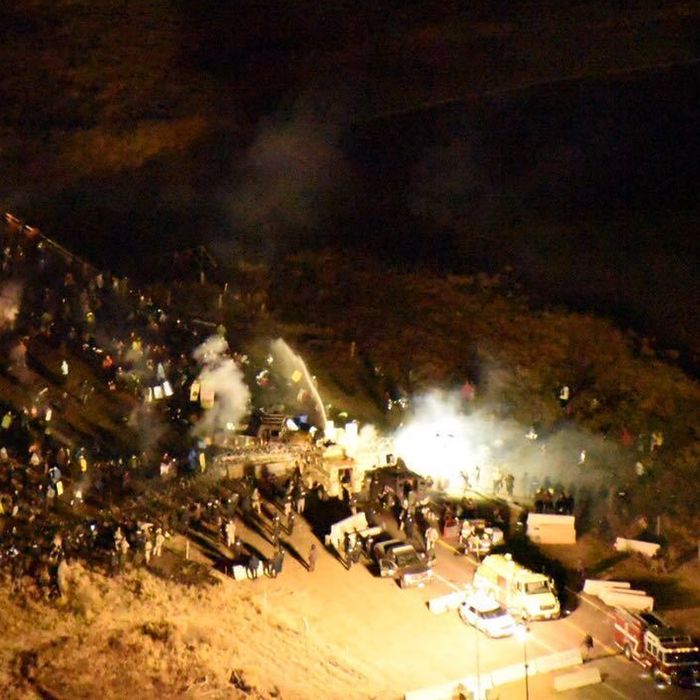 In this image provided by Morton County Sheriff's Department, law enforcement and protesters clash near the site of the Dakota Access pipeline on Sunday, November 20, 2016.
Photo: AP
Protesters faced off with law enforcement late on Sunday as they tried to make their way over a bridge north of a protest encampment near the Standing Rock Sioux reservation in North Dakota, which has been blockaded by police for the last month.
An estimated 400 protesters tried to cross the bridge in what the local sheriff's department is calling an "ongoing riot."
It appears the incident began when protesters tried to remove a burnt-out truck from near the police line on Backwater Bridge. Protesters claim that they were trying to reach sacred tribal lands, but were stopped by police tasked with keeping them off the land, which legally falls under the jurisdiction of the U.S. Army Corps of Engineers.
People on the scene have posted videos to social media that appear to show police using tear gas and water cannons — in below-freezing temperatures — on protesters. And activists have reported multiple injuries from rubber bullets..
Police are telling a very different story and claim that protesters — whom they refer to as "rioters" — tried to surround them and have started multiple fires on the bridge.
Protests have been raging for months between the Standing Rock Sioux tribe and their supporters and Energy Transfer Partners, which is trying to build a pipeline to transport oil from North Dakota and Illinois. Thirty-three people were arrested in another confrontation with police ten days ago.
On Friday, Kelcy Warren, the CEO of the Dallas-based energy company, reiterated that the company would not reroute the pipeline.