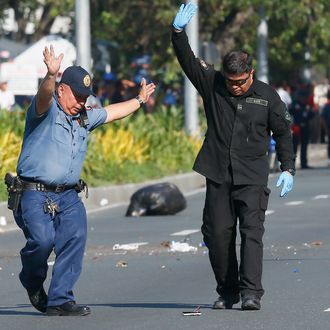 Bomb squad in action.
Photo: Bullit Marquez/AP
Philippine authorities have safely detonated a suspicious package left near the U.S. Embassy in Manila. Nobody was hurt in the blast.
Police in the capital received a call early Monday morning from a street sweeper who found a suspicious object in a trash can about 600 feet away from the embassy: an old cell phone connected to a package with red and black wires.
Police were able to destroy the package in a controlled detonation and the embassy opened for business as usual.
Despite early claims from police that there was nothing explosive in the package, it is now being reported that the cell phone was in fact connected to a blasting cap, a 9-volt battery, and an 81-millimeter mortar shell, a setup commonly used by Islamic separatists in the country's restive south.
A similar explosive went off in a market in Davao City in September killing 14 people. And Chief Superintendent Oscar Albayalde confirmed in an interview that "most probably there was an intention to bomb the area."
Police have yet to apprehend any suspects.
The bombing attempt came just a day after government troops reported killing 11 fighters aligned with ISIS in the south, as firefights raged there through the weekend.