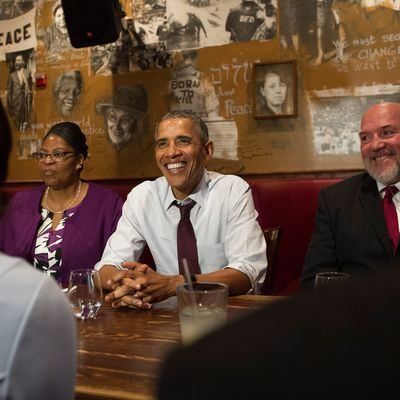 President Obama with clemency recipients.
Photo: Kevin Dietsch-Pool/Getty Images
President Obama commuted the sentences of 79 drug offenders on Tuesday, bring the total number of federal inmates who've had their sentences reduced by the president to 1,023. Obama has been on a commutation spree in the past year as his administration attempts to sort through all of the clemency applications before the end of his presidency. All told, he has now granted clemency to more inmates than the past 11 presidents combined.
Nearly all of the offenders who've successfully petitioned for commutation are non-violent drug offenders who have "served over four times the sentences they would receive today," according to White House Counsel Neil Eggleston. Just under 350 of them were serving life sentences at the time of their commutation.
"It makes no sense for a nonviolent drug offender to be serving decades, or sometimes life, in prison," the President wrote in a Facebook post. "That's not serving taxpayers, and it's not serving the public safety."