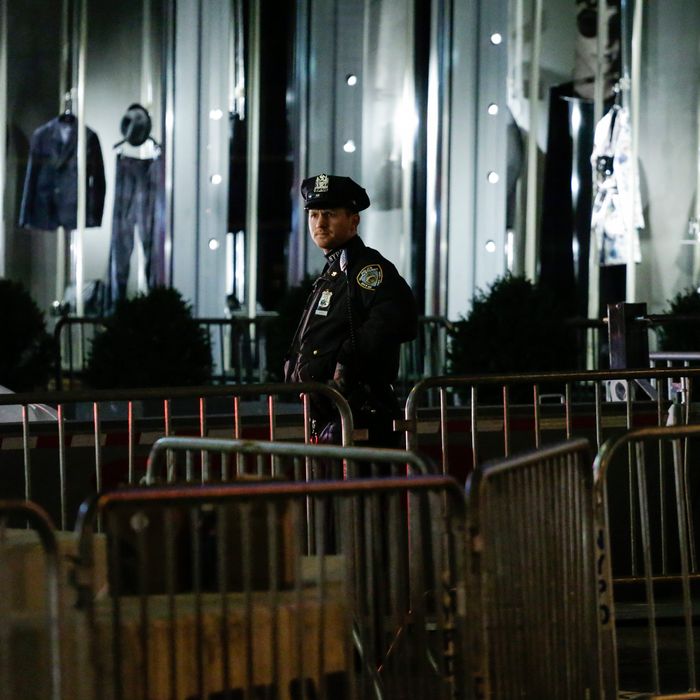 Photo: Kena Betancur/AFP/Getty Images
Ensuring the safety of Donald Trump and his family while the president-elect continues to call Trump Tower home is costing New York City more than $1 million a day, CNN reports. And Mayor Bill de Blasio wants the federal government to help out.
At a press conference on Friday, the mayor said meeting police overtime obligations "will take substantial resources" over the next 65 days, until Trump's inauguration, and beyond, when Melania and Barron Trump are expected to remain at Trump Tower. Add Trump's children and grandchildren to the list of those requiring protection and factor in the population density of where Trump lives and it's a protection operation the likes of which New York City has never seen.
If you're wondering why the Secret Service isn't handling this, it is. But local police are required to assist, especially when it comes to "controlling movements of the general public," CNN notes.
As the NYPD steps up efforts to protect Trump and his family, it is also on high alert for Thanksgiving-related attacks. ISIS's English-language magazine recently declared the Macy's Thanksgiving Day Parade an "excellent target" and the city is responding by placing 81 sand-filled garbage trucks along the parade route to prevent a repeat of the Bastille Day attack in Nice.
Meanwhile, a Brooklyn man was arrested by the FBI Monday for plotting an attack on Times Square and trying to join ISIS. The 37-year-old Uber driver travelled to Turkey and Yemen last year in an attempt to join ISIS and told an informant about a potential "operation in Times Square."
Despite his efforts to join ISIS, Mohamed Rafik Naji, a legal permanent resident of the U.S., seems to have repeatedly failed. As he allegedly wrote to wife in a March 25, 2016 email, "It's very hard to get in I'm on my 5 try its difficult mad po po military and ppl here."