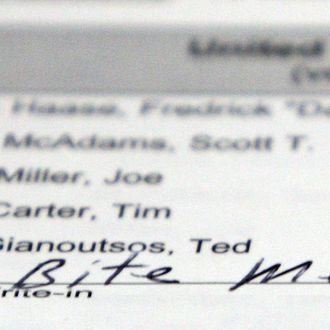 Photo: Eric Engman/Getty Images
Hillary Clinton and Donald Trump were two of the least-liked presidential candidates in history, and apparently a fair number of voters really couldn't bring themselves to vote for either of them. A report in the Washington Post rounds up some protest-vote statistics from around the country (votes are still being tallied in some places) and finds that some states had an uptick in people who went to the polls to vote for everyone except president of the United States. Nevada, which is the only state that actually includes a "None of the Above" option, had 28,863 people (about 2.5 percent of the vote) pick that option in 2016 compared to just 5,770 (about .57 percent) in the Romney–Obama matchup in 2012. As the Post points out, Clinton only won the state by 27,207 votes.
Or you can pull a George W. Bush and just leave the presidential category blank, which is what almost half a million voters in California did, so far in the count. Donald Trump won Oklahoma handily, but the number of voters who left the top of the ballot blank nearly doubled from 2012 to 2016.
And in New York State 48,098 people (.67 percent of voters) left the presidential contest completely blank, and about 61,241 (about .85 percent of voters) ostensibly protested by writing in a candidate. That's compared with the official 2012 results, when .13 percent of New Yorkers (a bit more than 9,000 people) cast a "scattered" or write-in vote. Getting closer, Mickey Mouse.