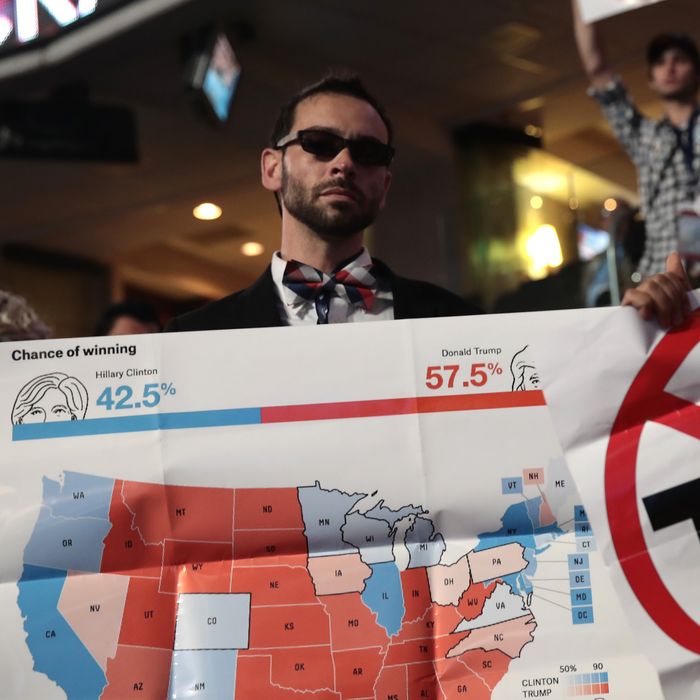 This DNC protester made his final call way back in July.
Photo: Drew Angerer/Getty Images
A number of factors (both candidates' historic unpopularity, one candidate threatening the norms that hold our country together) make this year's presidential race even harder to call than usual. But a few brave pundits have put it all on the line, sharing their electoral vote breakdowns for all to see. If they're wrong, their foolish prognostications will haunt them until hackers destroy the internet (which could be tomorrow). But if they're right, they'll be almost as celebrated as the guy who predicted the Cubs' World Series win in his 1993 yearbook. Here's how they expect the map to look at the end of the night.
Jon Favreau

Jamelle Bouie
Steve Deace
Conservative talk show host and commentator Steve Deace believes that Clinton will win the popular vote with 48 percent of the vote, and the Electoral College with 318 votes — including big wins in Pennsylvania, Florida, and New Hampshire.
Taylor Batten
The Charlotte Observer's editorial-page editor gives the race to Clinton, but sees a path for Trump too.
Of those 11, Trump takes Georgia, Ohio, Iowa, Arizona and Utah. That's 57 electoral votes.

Clinton takes Florida, Virginia and Colorado. That's 51 electoral votes.

So it's 297-216 in favor of Clinton, with North Carolina, New Hampshire and Nevada too close to call. I'll give North Carolina to Trump and Nevada and New Hampshire to Clinton.

Finally tally, 307-231, Clinton wins.

What could make this wrong and lead to a Trump win? Lots of things. Here's one: Trump wins Florida, Nevada and New Hampshire (all possible), and the rest of my predictions are right. The totals in that case?

Trump 270, Clinton 268.
Michael A. Cohen
Boston Globe columnist Michael A. Cohen says he had a "simple theory" going into this year's election: "The Democratic Party's significant demographic advantage among non-white voters along with Donald Trump's alienating effect on female voters would ensure a Hillary Clinton victory." His prediction:
Hillary Clinton is a solid bet to win 322 electoral votes. The three wild cards are Arizona, Ohio, and Iowa. Trump has had a slight advantage in Ohio for much of the campaign, though the lastest poll by the Columbus Dispatch shows Clinton up 1 percent. Initial early voting seemed to suggest the GOP was outpacing Democrats, though the numbers have shifted back in recent days. In the end, I give the nod to the candidate with the better ground game and that's Clinton. Arizona has also had a slight Trump lead, but I'm going to ride the Hispanic surge. Iowa looks like a done deal for Trump, especially with the final Des Moines Register poll giving him a 7-point lead. The early vote numbers offer more hope for Clinton. Democrats are showing a 42,000 advantage, which is less than the approximately 60,000 vote advantage they had in 2012 when Obama won by 6 points. I think Trump is likely going to win here, but I've been bullish on Clinton's chances from the beginning so I might as stick with it and give her the Hawkeye State. So that adds up to 358 electoral votes for Clinton."I believe she's going to win in an electoral landslide and be the most unpopular president in electoral history, which is quite the paradox."
David Lauter and Mark Z. Barabak
The two L.A. Times journalists say Clinton's get-out-the-vote operation and the surge in Latino votes will put her over the top.
The previous version of the map had five toss-up states. In the end, we're predicting that three of them – North Carolina, Ohio and Arizona – will go for Hillary Clinton.

Iowa will go to Donald Trump, we expect. So will Utah, where independent candidate Evan McMullin has been threatening Trump, but seems likely to come up short.

Our projection would give Clinton 352 electoral votes, while Trump would end up with 186. That would put Clinton's electoral majority midway between President Obama's 2008 win and his 2012 reelection.
Larry Sabato
John Iadarola
Nate Silver
Chris Cillizza
Curt Schilling
The former Red Sox pitcher and new Breitbart hire remains optimistic about Trump's chances:
John Weaver
Speaking on The Axe Files, David Axelrod's political podcast, the Republican strategist predicted a big win for Clinton. "I believe she's going to win in an electoral landslide and be the most unpopular president in electoral history, which is quite the paradox," he said.