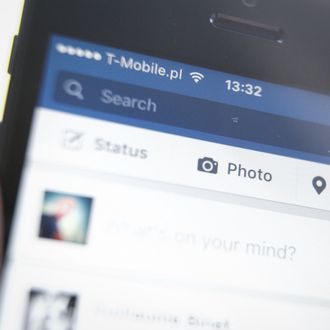 Photo: Jaap Arriens/NurPhoto via Getty Images
In an effort to breach the Great Firewall of China, the New York Times reports Facebook has been developing "software to suppress posts from appearing in people's news feeds in specific geographic areas." The social network has been unavailable in the country since 2009.
This is not unprecedented. Companies like Google have censored search results shown to Chinese users, and most major tech companies usually comply with government requests to block content. According to the Times:
Facebook does not intend to suppress the posts itself. Instead, it would offer the software to enable a third party — in this case, most likely a partner Chinese company — to monitor popular stories and topics that bubble up as users share them across the social network, the people said. Facebook's partner would then have full control to decide whether those posts should show up in users' feeds.
That Facebook is hoping to reenter China is no surprise. CEO Mark Zuckerberg has been cultivating relationships with diplomats and politicians, including president Xi Jinping, for a long time. Zuckerberg's attitude is apparently that he would rather be a tool for partial conversation rather than nothing at all.
Still, employees have expressed concern internally over the tool, which has not been deployed and may never see the light of day. Its code is available to engineers at the company. Several of the employees working on the tool left over the summer.