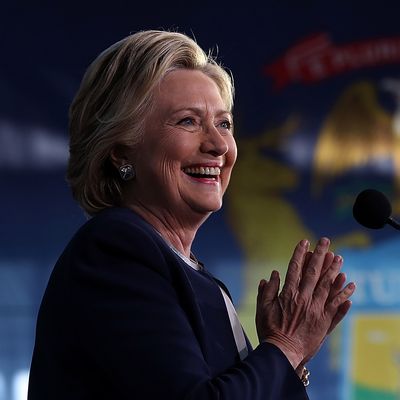 Some late relief for Clinton, but is it too late?
Photo: Justin Sullivan/Getty Images
FBI director James Comey has once again cleared Hillary Clinton and her aides of criminal wrongdoing regarding her use of a private email server while serving as secretary of State, following the review of a trove of newly discovered emails from an unrelated investigation that seemed as though they may be pertinent to the case. As it turns out, even if they were, they provided nothing new to change Comey and the FBI's original conclusion that there was no evidence of intentional mishandling of classified information by Clinton or her aides, and thus no basis for charges to be filed.
Comey, of course, attracted a maelstrom of bipartisan criticism for his unprecedented decision to announce the discovery of the new emails within two weeks of Election Day in a vaguely worded letter to members of Congress on October 28, which was immediately leaked to the press. Comey's disclosure violated Justice Department policy and threatened to upend an already tightening presidential race between Clinton and Donald Trump. Comey's conclusion, nine days later, that the emails did not change the agency's original judgment, underscores the irresponsibility of disclosing the trove in the first place — especially since Comey didn't seem to know much about the emails before deciding to alert Congress. Comey's new letter does, however, clear a fog which had formed around Clinton's campaign — though it does so with barely more than two days until polls close on Election Day.
Here is what Comey wrote to members of Congress on Sunday updating them about the investigation into the new emails, which were discovered while investigating a computer belonging to the estranged husband of Clinton aide Huma Abedin:
I write to supplement my October 28, 2016 letter that notified you the FBI would be taking additional investigative steps with respect to former Secretary of State Clinton's use of a personal email server. Since my letter, the FBI investigative team has been working around the clock to process and review a large volume of emails from a device obtained in connection with an unrelated criminal investigation. During that process. we reviewed all of the communications that were to or from Hillary Clinton while she was Secretary of State.

Based on our review, we have not changed our conclusions that we expressed in July with respect to Secretary Clinton.

Furthermore, as some reports had speculated when the trove was first announced:
Clinton campaign spokesperson Jennifer Palmieri responded favorably to Comey's letter on Sunday, remarking that "we are glad to see [Comey] has found — as we were confident he would — that he has confirmed the conclusions he reached in July and we're glad this matter is resolved."
Trump, who originally praised Comey for having the "guts" to announce the discovered emails, did not specifically refer to the new Comey letter when speaking to a rally in Minnesota on Sunday, but told the crowd that, "You have to understand it's a rigged system and [Clinton's] protected."
As far as the damage that Comey's "October Surprise" had on Clinton, that's not entirely clear, particularly as many analysts believe the tightening of the race over the past two weeks was already underway by the time the new email story broke. But looking through the lens of early voting in Florida, there's at least some indication that it influenced some key voters:
For a more aerial view, FiveThirtyEight polling guru Nate Silver notes that while Clinton's numbers were already dropping following her peak after the final debate, the drop intensified in the days following Comey's disclosure, before then leveling off with an overall swing of three points against Clinton. He adds that Comey's action likely did some damage on the Democratic down ticket, as well:
Democrats' chances of winning the Senate were generally hovering around 70 percent in late October. Today, they're 50 percent. It doesn't take a lot to swing the numbers in the Senate forecast because of the large number of competitive races — even a 1-point swing toward Republicans because of higher turnout could affect the odds significantly.
As far as what effect Comey's new letter will have, Silver isn't sure, and he cautions that any change will be too late to measure with polls anyway. He also notes that reminding voters about the emails at all again may do more harm than good, though that's assuming news organizations devote anywhere near as much attention to Clinton being cleared as they did to Comey's letter announcing that the FBI had found, as we now know, nothing at all.
This post has been updated throughout.