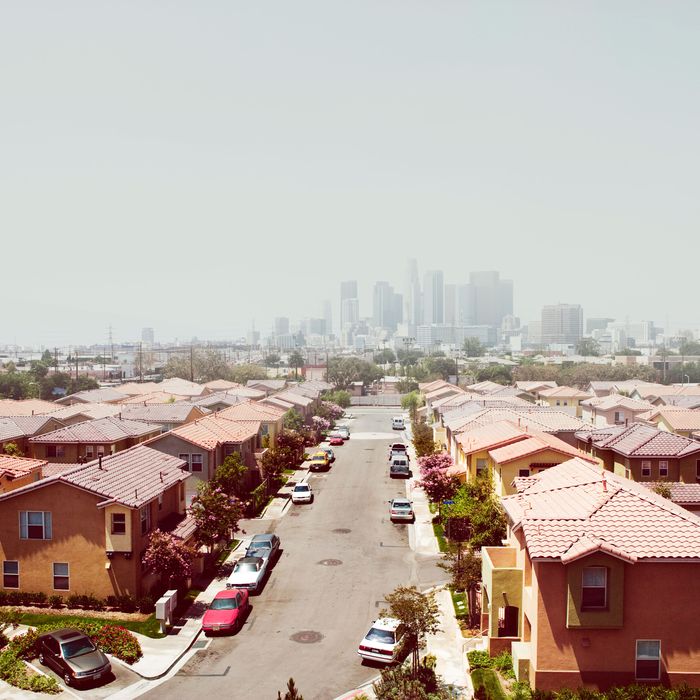 California's top-two primary system has created an environment in parts of Los Angeles County where no Republicans other than Trump are on the general-election ballot.
Photo: Asger Carlsen/Getty Images
A week from the final Election Day of the cycle, a lot of the buzz is about the impact of the wild presidential races on contests for Congress and state offices. But there are places where the lack of down-ballot competition makes that a moot point. One of the more notable "deserts" for nonpresidential competition is in California, where the state's top-two primary system has created large groups of voters who will find virtually no Republicans on the ballot.
Top-two (a system utilized by Washington State as well as California) provides that the two leading vote-getters in a nonpartisan primary (candidates can, if they wish, designate their party affiliation, but they all run in the same contest open to all voters) go on to the general election. That means in theory and increasingly in practice that two candidates from the same party are competing in November. And so: two Democratic women, Kamala Harris and Loretta Sanchez, are competing to succeed Barbara Boxer, one of the two Democratic women representing the Golden State in the U.S. Senate.
But in parts of California, the Democratic ballot domination is total. As Javier Panzar of the Los Angeles Times points out, a large swath of heavily populated Los Angeles County has no Republicans on the ballot at all:
When 818,000 voters in Los Angeles County fill out their ballots this election, they will find themselves in strange political territory: The only Republican names they'll see will be presidential nominee Donald Trump and his running mate Mike Pence.

In this GOP "dead zone" — spanning parts of five congressional districts, five state Assembly districts and one state Senate district — not a single Republican candidate made it on to the November ballot.
Local elections in California are conducted on a nonpartisan basis, so there may be some stealth Republicans lurking way down ballot. And there are a few places in the state where Republicans dominate enough to win their own primary shutouts. But not many:
Excluding the U.S. Senate race, 27 of 153 down-ballot contests across California will have candidates from the same political party. During state elections in 2012 and 2014, there were 28 and 25 same-party contests, respectively, according to data compiled by the nonpartisan election guide California Target Book.

But during those years, at least seven of the intraparty contests were between Republicans. This year there are only four Republican-on-Republican battles — all Assembly races.
It is not easy to tell if same-party general elections are a product of Democratic domination, or a contributing cause. In any event, it matters in a year when Democrats are fighting for the two-to-one supermajority in the state legislature that will liberate them from constitutional limitations on tax measures, and essentially relegate Republicans to the kind of rump faction Democrats have become in parts of the Deep South.
Meanwhile, there are parts of the state where it must really suck to be an anti-Trump Republican staring at a ballot with no like-minded candidates.