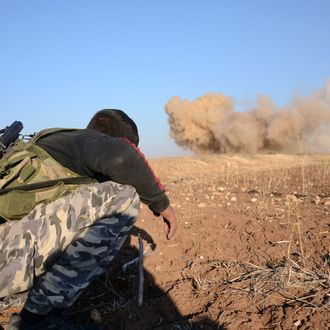 A rebel fighter reacts in northern Syrian on November 25.
Photo: NAZEER AL-KHATIB/AFP/Getty Images
The conflict in Syria claimed the life of an American service member, the first to die fighting ISIS in the war-torn country since the U.S. military deployed Special Operations Forces in 2015, reports the Washington Post.
The service member, who has not yet been identified, was reportedly killed by an improvised explosive device, buried on a roadside near Ayn Issa, a town in northern Syria about 35 miles from the ISIS stronghold of Raqqa. "I am deeply saddened by the news on this Thanksgiving Day that one of our brave servicemembers has been killed in Syria while protecting us from the evil of ISIL," Secretary of Defense Ash Carter said in a statement. "It is a painful reminder of the dangers our men and women in uniform face around the world to keep us safe."
The United States has about 500 troops in Syria who are providing technical and logistical support and training to Arab and Kurdish fighters that make up the coalition that's trying to defeat the Islamic State. Secretary of Defense Ash Carter said last month that operations to retake Raqqa would begin in the coming weeks, an offensive that will launch as Iraqi troops are also fighting to wrench Mosul, Iraq, from ISIS control. Iraqi and Kurdish peshmerga forces have pushed deeper into Mosul, where the Islamic State is putting up a fierce resistance. More than 5,000 extremist fighters are believed to be embedded in the city, and about a million civilians remain trapped in Mosul with them. But retaking Mosul, Iraq's second largest city, and Syria's Raqqa, which ISIS considers the capital of its caliphate, would deal a crushing blow to the jihadist group.