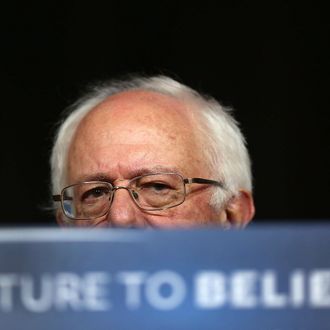 Bernie bros will be back, just when you least expect them.
Photo: Joe Raedle/Getty Images
If you've finally convinced yourself not to be a bed-wetter, here's a development that might change your mind. Americans could narrowly vote to preserve our republic and wind up with a Donald Trump presidency anyway, thanks to one Electoral College voter. Robert Satiacum, a Democratic elector in Washington State, announced on Friday that he will not vote for Hillary Clinton when the Electoral College affirms the election results on December 19, even though she is expected to win the state's 12 electoral votes.
The Associated Press reports that Satiacum, a member of Washington's Puyallup Tribe, supported Bernie Sanders in the primary. He said he can't vote for Clinton because she's a "criminal," she doesn't do enough for American Indians, and "she's done nothing but flip back and forth." He does not think Trump is fit to lead either.
Electors aren't constitutionally required to vote for the candidate voters in their state select, but in some states, "faithless electors" can be penalized for failing to do so. Satiacum is facing a $1,000 fine, but he said he doesn't care and hopes other electors will join him. "This is a time we all need to stand up and speak out," he said. We have a feeling Sarah Silverman will have something to say about this.