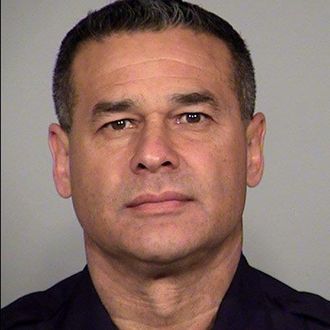 Benjamin Marconi, the San Antonio police officer fatally shot.
Photo: AP
A San Antonio, Texas, police officer was shot and killed on Sunday while sitting in his squad car during a routine traffic stop just outside of police headquarters. The 50-year-old officer, Detective Benjamin Marconi, was one of four police officers shot Sunday in four separate cities across the United States. At least two, including Marconi's death, appear to be targeted attacks.
Marconi, a 20-year veteran police officer, is the only fatality in a bloody 24 hours for law enforcement. According to officials, Marconi was in his car, writing a traffic ticket for a driver, when another car — believed to be a black sedan — pulled up behind his vehicle, approached the driver's-side window, and shot him twice in the head before driving away. Marconi was pronounced dead at the hospital.

A citywide manhunt is under way for the shooter, whom San Antonio police chief William McManus has said is "extremely dangerous and a clear threat to law enforcement officers and the public." Police say they do not believe the shooter had any relation to the driver who was initially pulled over, and officials have not named a motive.
In St. Louis, Missouri, police described another attack on a 46-year-old police sergeant as an "ambush." The veteran cop is now in critical condition after being shot twice in the face — but he is suspected to survive. "He was targeted because he was a police officer," St. Louis Mayor Francis Slay told reporters. "He didn't stop anybody. He didn't point a gun at anybody."
The police officer was reportedly alone in his patrol car Sunday evening when another driver stopped next to cop. The sergeant told police he believed the man was about to ask him a question; instead, he fired two bullets from his car at the cop, which lodged near the officer's nose and cheek. The suspect left the scene, but police found his vehicle, which the alleged assailant had abandoned in a parking garage after getting picked up by a female friend, reports the St. Louis Post-Dispatch. Police then tracked down the suspect and his getaway driver at an intersection; the attacker tried to escape on foot, firing at officers as he fled. Cops exchanged gun shots, striking and killing the suspect. The assailant had not been named, but is reportedly a 19-year-old man with a history of violent crime, who may have been wanted in connection to an unrelated murder investigation.
In Sanibel, Florida, another officer sitting in his vehicle was injured by a drive-by shooter around 8 p.m. Sunday. The officer was parked in his car after a routine traffic stop when he was struck in the shoulder. Officers tracked down the suspect, who was injured in a shootout with police, reports the News-Press, and taken into custody less than two hours after the attack. It was, according to police, the first officer shot in Sanibel, an island near Fort Myers, Florida, in the small force's history.
Elsewhere in Missouri, a police-involved shooting left one officer injured and a suspect dead in another traffic stop turned violent in Gladstone, a suburb of Kansas City. Officers stopped a driver, and a passenger leaped out and tried to run away from officers. Cops caught up with the suspect, but when they tried to arrest him, the man fought back and reportedly brandished a gun. According to Fox 4KC, shots were fired and the suspect was fatally wounded. The officer was also hit, but his injuries are not said to be life-threatening.
These officer shootings, including Marconi's death, come near the end of what has been an unusually deadly year for law enforcement, with officers slain in high-profile shootings in Baton Rouge, Dallas, and Des Moines.
This post has been updated to include additional information.