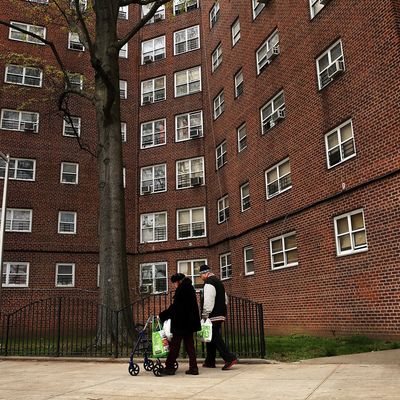 Residents walk through the Eastchester Gardens housing complex in the Bronx on April 28, 2016.
Photo: Spencer Platt/Getty Images
No smoking allowed in America's public housing. The Department of Housing and Urban Development will begin implementing a smoking ban early next year, reports the New York Times, which will prohibit people from lighting up in apartments, common space, and within 25 feet of any public-housing building. Cigarettes, cigars, and pipes are included in the ban; e-cigs are exempt.
The public-health initiative, which HUD proposed last year, will affect about more than 940,000 low-income households — including more than 400,000 residents in 328 developments in the sprawling New York City Housing Authority (NYCHA), the country's oldest and largest public-housing system. Local smoking bans already affect about 200,000 subsidized homes in cities such as Boston.
HUD said that housing authorities nationwide will have 18 months to adjust and figure out how to enforce these new rules — assuming incoming HUD Secretary Dr. Ben Carson wants to keep the prohibition. Enforcement will probably the be biggest challenge, especially in places like New York, where NYCHA is not just huge but notoriously cash-strapped and mismanaged. HUD does appear to be ceding the decision to local authorities on how to administer the ban. Right now, many local authorities fine residents for noncompliance (and, in some cases, provide resources to help people quit smoking), but residents and advocates fear more punitive measures — namely evictions. HUD Secretary Julián Castro, speaking to reporters, did say that "the last thing that we want are evictions," adding that he did not expect that to be the outcome of this ban.
Still, opponents maintain it punishes those who don't have the option of picking up and moving away — though that's an argument that also works in favor of the ban. The majority of public-housing residents are elderly, disabled, and kids, and eliminating the threat of secondhand smoke protects the most vulnerable. The CDC also estimates that the smoking ban will save housing authorities about $153 million per year in repairs, fires, and health costs, per the Associated Press.