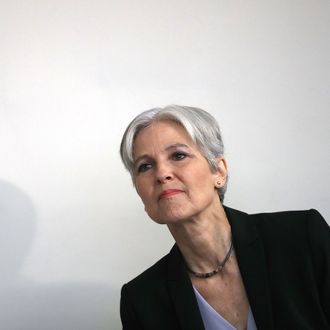 Jill Stein.
Photo: Win McNamee/Getty Images
Experts have been quietly petitioning Hillary Clinton's campaign to request a recount in three key states — Wisconsin, Pennsylvania, and Michigan — that Trump won to rule out an unlikely but possible cyberattack. Some Clinton supporters and conspiracy enthusiasts are onboard, though it does not appear the campaign agrees; the Clinton team has not made any moves to file for a recount by the imminent deadlines.
But another woman presidential candidate has: Jill Stein, of the Green Party, has now raised more than $5 million (of a $7 million goal) to file for recounts in Wisconsin, Pennsylvania, and Michigan — which will likely end up being more money than her presidential campaign raised in 2016. Stein met her original grassroots-fundraising goal of $2.5 million on Thursday. She then increased that to $4.5 million, and later $7 million as the Stein campaign apparently recalibrated to account for attorneys' fees and other costs. As of Friday afternoon, according to the fundraising page, Stein has enough money for recounts in Wisconsin — whose deadline is Friday, at 5 p.m. ET, and which the campaign says it will meet — and Pennsylvania, where the filing date is Monday. Michigan's deadline is Wednesday.
Stein herself won't really stand to benefit from any recount — she won around one percent of the vote in those states, though her vote count in Michigan and Wisconsin does, so far, exceed Trump's margin of victory over Clinton. Stein concedes that she has no proof of hacking, telling CNN, "We're not saying hacking or fraud has necessarily taken place. I don't think we have evidence of that. But I think it's only natural, and it's good for Americans to be reassured that our votes are counted especially after such a divisive and bitter election." The Green Party candidate also said on the fundraising page that the effort is not intended to help Clinton.
The recounts, even if they happen, are unlikely to fulfill Clinton supporters' deepest desires and change the ultimate outcome of the 2016 election — and many Democrats see this recount as a crass stunt on the Green Party's part to raise its profile. But despite Trump's lead in the Electoral College, Clinton's advantage in the popular vote has surpassed 2 million. Trump won Wisconsin and Pennsylvania by 0.8 percent and 1.2 percent, respectively, and is edging out Clinton in Michigan with a mere 0.2 percent of the vote. As Gabriel Sherman first reported in New York:
The academics presented findings showing that in Wisconsin, Clinton received 7 percent fewer votes in counties that relied on electronic-voting machines compared with counties that used optical scanners and paper ballots. Based on this statistical analysis, Clinton may have been denied as many as 30,000 votes; she lost Wisconsin by 27,000. While it's important to note the group has not found proof of hacking or manipulation, they are arguing to the campaign that the suspicious pattern merits an independent review — especially in light of the fact that the Obama White House has accused the Russian government of hacking the Democratic National Committee.
Even those experts who have urged a recount said Russian interference is still the least likely explanation for Trump's win — though an audit would rule it a hack and quash lingering conspiracy theories. And this new push for a recount comes as more evidence emerges of just how eager the Kremlin was to meddle in the United States elections. The Washington Post reported Friday on a new study that describes how a Russian propaganda campaign created and disseminated English-language fake news, which was designed to cast a shadow over both Hillary Clinton and the American democratic system. Per the Post:
Russia's increasingly sophisticated propaganda machinery — including thousands of botnets, teams of paid human "trolls," and networks of websites and social-media accounts — echoed and amplified right-wing sites across the Internet as they portrayed Clinton as a criminal hiding potentially fatal health problems and preparing to hand control of the nation to a shadowy cabal of global financiers. The effort also sought to heighten the appearance of international tensions and promote fear of looming hostilities with nuclear-armed Russia.
All kinds of fake news — the Pope endorsing Trump, for example — outperformed legitimate stories on social media during the elections. But, per the report in the Post, Russia helped generate bogus reports on about 200 sites, which were seen by more than 15 million Americans — and such fake stories had as many as 213 million views on Facebook. In other words, Putin and the Kremlin needn't have rigged electronic voting machines to get the election outcome it wanted.