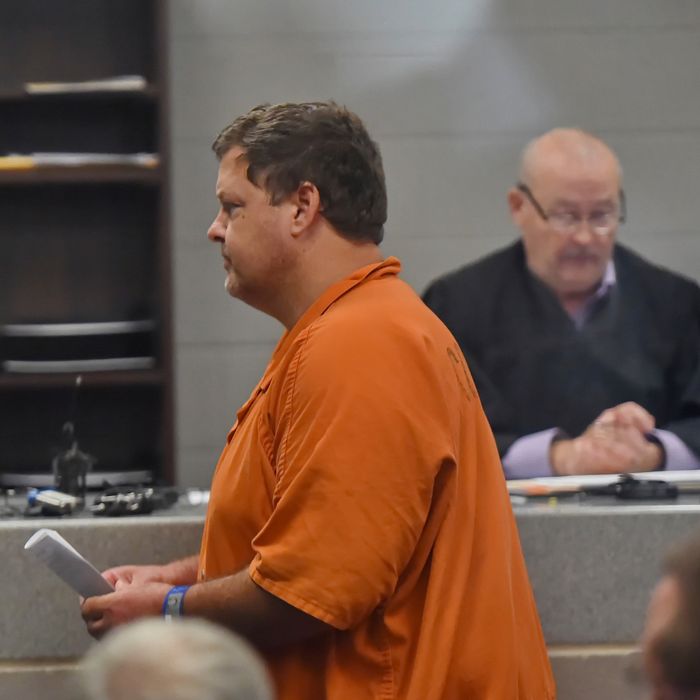 The South Carolina man who had a missing 30-year-old woman chained up in a shed on his property has been charged with four murders after he confessed to a massacre at a bike shop in 2003.
Todd Kohlhepp, 45, has already been charged with kidnapping Kala Brown and keeping her in captivity for the last two months, but authorities believe he is also responsible for the murders of at least seven people.
Kohlhepp is a convicted sex offender who had been working as a realtor in Northwest South Carolina. The body of the missing woman's boyfriend was also discovered on his property.
Brown has told authorities that she saw Kohlhepp shoot her boyfriend, Charles Carver, 32, and that she believes Kohlhepp has other victims buried on his rural 96-acre property.
Brown worked for Kohlhepp, cleaning houses for him, and she says she went to clean one of his properties with Carver when Kohlhepp arrived and pulled a gun on them both.
Kohlhepp's recent confession puts to rest a bizarre case that had remained open for the last 13 years. Known locally as the Superbike Motorsports case, four people were found shot execution-style in a motorcycle shop in western Spartanburg County, South Carolina, in 2o03. Each of the victims in the massacre was shot multiple times, as was Carver.
In his confession, Kohlhepp said that he murdered the owner, service manager, mechanic, and bookkeeper of the shop, and provided details to police that only the killer could know.
Kohlhepp was denied bail and refused to make a statement in front of his victims' families twice when he appeared in court on Sunday.