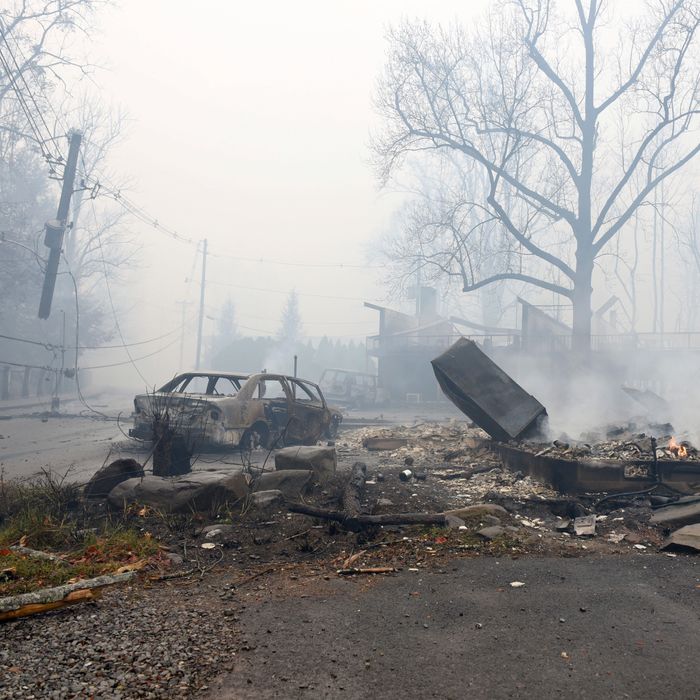 A structure and vehicle are damaged from the wildfires around Gatlinburg, Tennessee, on Tuesday, November 29, 2016.
Photo: Michael Patrick/Knoxville News Sentinel via AP
Wildfires are threatening Tennessee towns near the border of Smoky Mountains National Park. Winds gusts and a prolonged drought are fueling the flames. The blaze has already engulfed more than 70 homes and 150 structures in Sevier County, and forced more than 14,000 people to evacuate. Three people have been killed.
The area is a popular vacation spot, and its attractions and lodgings were under siege from the inferno. Fire swallowed a 16-story hotel in Gatlinburg, though much of the town's downtown had been spared. In Pigeon Forge, flames licked at the edges of a fire line set up to protect the Dollywood theme park. The park was spared, though several cabins in its resort were damaged.
Tennessee has brought in 100 National Guard troops to help the more than 200 firefighters and other personnel battle the blaze. Gatlinburg Fire Chief Greg Miller said Tuesday that "the worst is definitely over with." Rain also began falling Monday night in the parched region, though it will do little in the short term to really quell the flames — or ease the region's crippling drought.
"This is a fire for the history books," Miller said.
The wildfires that are terrorizing eastern Tennessee are a few of the dozens burning in the southeastern United States; over Thanksgiving, fire crews were battling 72 wildfires in the state alone; together, those fires consumed about 26,000 acres. The Rock Mountain fire in North Georgia consumed about about 25,000 acres and spread as far as North Carolina. The U.S. Forest Service notes active fires in South Carolina, Kentucky, and even Alabama — all states plagued by record drought.
*This post has been updated with the number of fatalities.