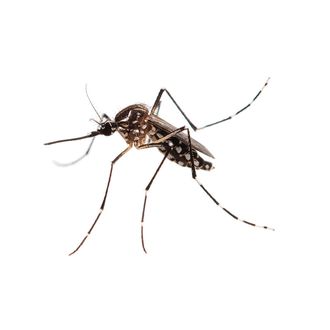 Aedes aegypti.
Photo: Amazon-Images/Alamy Stock Photo
Make that two U.S. states with homegrown Zika. Texas health officials have recorded what is likely the first case of local transmission in Brownsville, a southern Texas city on the Mexican border.
A 43-year-old woman tested positive for the disease; she had not traveled to a Zika-infected area or had any other risk factors, per officials. No other local cases have been recorded in the area, but Texas officials aren't floored by this development as towns across the border have reported local cases of Zika, and the Aedes aegypti mosquito — the bloodsucker that carries the virus — is all over the area. "We knew it was only a matter of time before we saw a Zika case spread by a mosquito in Texas," said John Hellerstedt, the state health commissioner, in a statement. "We still don't believe the virus will become widespread in Texas, but there could be more cases, so people need to protect themselves from mosquito bites, especially in parts of the state that stay relatively warm in the fall and winter."
Texas health officials will go door-to-door, and will take voluntary urine samples to see if there are any other infections. (The infected woman's urine tested positive for Zika, but not her blood, meaning that another mosquito can't transmit the virus to another human.) Crews will also trap and test mosquitoes to try to pinpoint the infection source. The CDC has not issued any travel warnings.
In July, a Miami, Florida, neighborhood confirmed the first cases of local Zika transmission in the United States. Since then, 236 homegrown cases have been reported. The majority of cases in the U.S. — more than 4,200 of them — are travel-related. The symptoms of the disease itself are fairly mild — rash, fever, joint pain — but the virus causes severe birth defects in pregnant woman, specifically microcephaly which causes babies to be born with or potentially develop serious neurological problems, often characterized by babies with abnormally small heads.