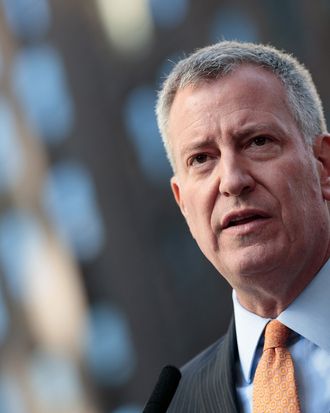 Photo: Drew Angerer/Getty Images
Federal inquiries are not cheap. The New York Times reports that the de Blasio administration has a $10 million contract with an outside law firm to represent the mayor and his aides in the U.S. Attorney's probe into a possible quid pro quo among donors.
The Times obtained a copy of a contract between the city's Law Department and the firm Debevoise & Plimpton, which was filed to the New York City comptroller (and potential 2017 mayoral challenger) Scott Stringer. The contract does not refer to the mayor by name, but instead to the "John Doe Investigation." But it's not too hard to figure out who this John Doe character is: The contract refers to investigation by the U.S. Attorney's office for the Southern District of New York at one point, and the agreement just so happens to date back to April 25, which is just a few weeks after the mayor's name came up in the larger probe into NYPD corruption. About $2 million in city funds was slated for fiscal year 2016 (which ended June 2016), and the rest for FY2017, which began July 1 of this year. (The Times says the rate the city is paying is commensurate with what big firms typically charge.)
According to a report from the mayor's office, released last week, the city added $6.5 million in new spending for outside lawyer fees in this year's budget relating to the many investigations the administration is facing. That includes state and local probes, such as a fee of $400,000 paid to Carter Ledyard & Milburn LLP over inquiries into the controversial sale of Rivington House on the Lower East Side. City money will not be used toward inquiries relating to the mayor's campaigns (those costs are reportedly being covered by the campaigns themselves), or into the Campaign for One New York, the mayor's now-defunct nonprofit. Mayor de Blasio has denied wrongdoing in all the investigations, and, months of federal investigation have yet to lead to criminal charges for anyone in his administration.