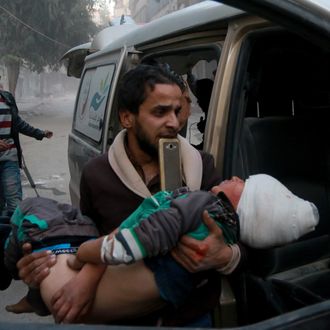 A man carries a wounded child in the Al-Shear district of Aleppo November 20, 2016.
Photo: Anadolu Agency/Getty Images
There are no functioning hospitals remaining in the rebel-held portions of Aleppo. On Friday, the last working hospital was disabled in the near-constant air strikes conducted by the government of Syrian president Bashar al-Assad and the Russian military. Sources on the ground say that the air strikes have been intentionally targeting health-care facilities, and that five hospitals have been bombed in less than a week. The air strikes have left more than 250,000 living in a war zone without access to emergency medical care.
Mohammad Yasser Tabbaa of the Syrian Expatriate Medical Association spoke with Time:
I think the value of the hospital — it's important medically but it's more important psychologically. When people know there is a place where they can be treated and they feel safe somehow. When they know they're all out of service, they panic. I think that's what the regime is trying to do.
On Friday, Syrian-government air strikes disabled the last two functioning general hospitals in the area, and its only children's hospital.
This CCTVV video obtained by NBC shows the exact moment that the children's hospital was bombed on Friday.
Now residents of rebel-held areas in Aleppo must depend on small, informal clinics for medical care. According to a statement from the World Health Organization: "Residents no longer have access to trauma care, major surgeries, and other consultations for serious health conditions,"
The eastern part of Aleppo — what was the largest city in Syria, and its commercial capital — has become a vital possession for rebels fighting the Assad regime. Though the eastern neighborhoods have basically been reduced to rubble, rebels have managed to hang on there for more than four years and the territory has taken on great practical and symbolic significance, especially as rebels have lost ground elsewhere in the country.
The recent targeting of hospitals represents the final stage in what has long been one of Assad's strategies: to eliminate all health-care facilities that help, treat, or support rebels. In just over ten days, at least a dozen hospitals were attacked, and two medical personnel were killed.
This recent bombing spree began in earnest on November 15 after a weeks-long ceasefire fell apart. Many activists believe that the Russians and Assad are taking advantage of the American election, ramping up the violence when they know that the Obama administration will not have much effective diplomatic recourse to stop it.
Now that Donald Trump has been elected, Syria's future is even more uncertain. Trump has been outspoken in his praise of Russia and Russian president Vladimir Putin, and he has made improving relations between Russia and the United States a top policy priority.
Speaking to the New York Times, the last neurosurgeon in eastern Aleppo described life in the embattled community: "You can't imagine what it's like living in Aleppo right now. It feels like we are living in hell. Our neighborhoods are in flames, and bombs are raining down from the sky. We urgently call on the international community to send help."