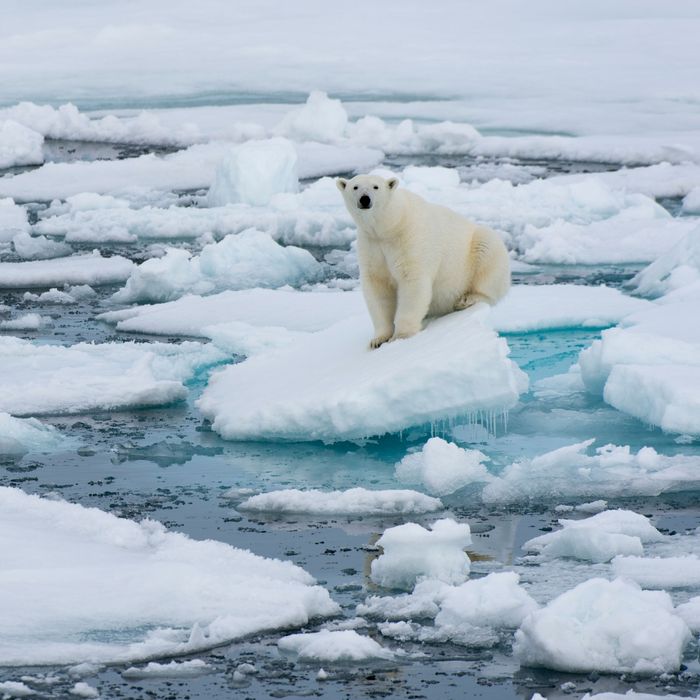 Help.
Photo: Wolfgang Kaehler/LightRocket via Getty Images
Apparently winter is not really coming to the Arctic. The North Pole is dealing with balmy temperatures this fall — a record 36 degrees hotter than normal. This relatively hot air coincides with another problem: Sheets of sea ice are forming, but at a slower pace than scientists normally see around this time of year — so much so that the ice extent has been setting daily record lows lately.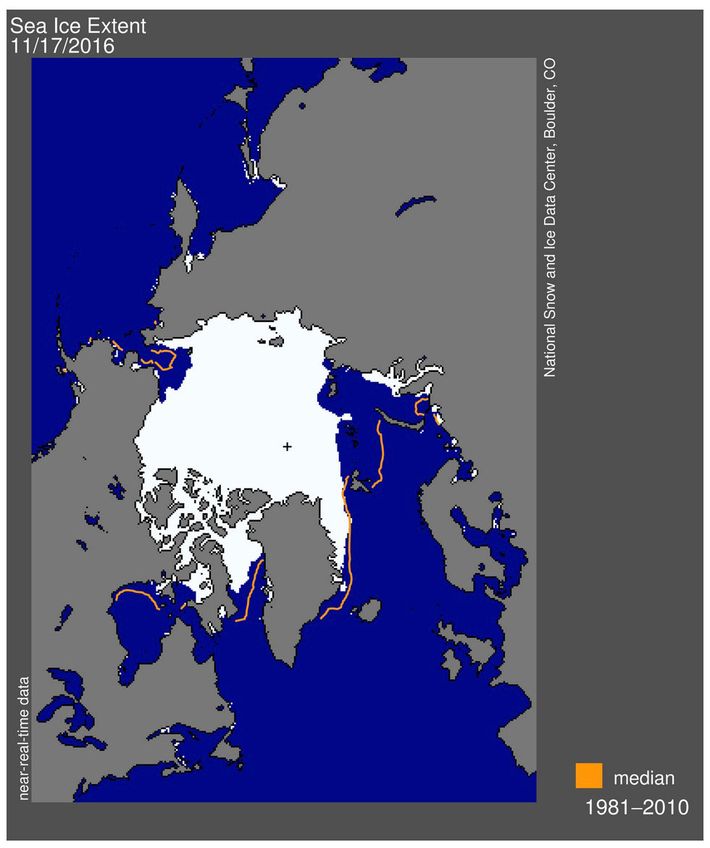 This is how Rutgers University scientist Jennifer Francis explains the phenomena to the Washington Post:
"The Arctic warmth is the result of a combination of record-low sea-ice extent for this time of year, probably very thin ice, and plenty of warm/moist air from lower latitudes being driven northward by a very wavy jet stream."
The jet stream is sending unusually hot air up to the Arctic, and displacing that extremely cold air — which, right now, is hanging over Siberia. The Arctic's ocean temperatures are also pretty high — about 25 degrees above normal — which is slowing the growth of sea ice. That lack of sea ice also means surface ocean temperatures are remaining warmer, creating a vicious cycle.
What happens this winter in the Arctic sets up the possibility of more problems next year, in 2017: A thinner ice sheet could melt more rapidly in the summer, which would hinder ice-sheet formation next winter. It's possible that trends will still reverse this year, but considering that 2016 is on pace to be the hottest year on record, the long-term outlook remains pretty bleak. October 2016 was only the second hottest on record — beat by October 2015, but edging 2014 — according to data from NASA's Goddard Institute for Space Studies.
The Arctic has been the bellwether for these global-warming trends: For example, in October 2016, the average temperature in Barrow, Alaska was 30.2 degrees — compared with a normal 15.6 degrees Fahrenheit. Then again, maybe it's all a Chinese hoax.