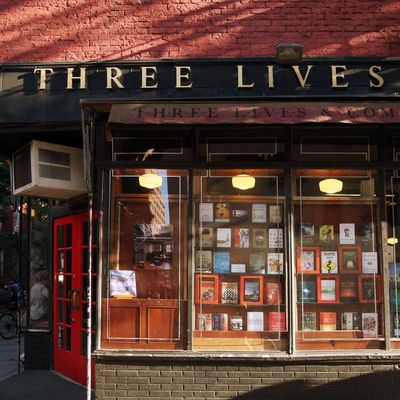 Three Lives & Co.
Photo: Konstantin Sergeyev
This September, the building at West 10th Street and Waverly Place was sold to a firm called Oliver's Realty Group, and you'd be forgiven for expecting a familiar grim story to have played out thereafter. The building's retail tenant is Three Lives & Co., a superb independent bookstore of the type that has been crushed out of most New York neighborhoods by high rents, and there was not a lot of hope that this time would be different. Yet we are here to tell you first that Three Lives — founded in 1978, and in this location since '83 — will stay put indefinitely, under conditions that both landlord and tenant confirm are sustainable for the long term.

Neither will talk about details of the new lease, but Three Lives' owner, Toby Cox, was buoyant when New York called to confirm the news, and added that working out terms with his new landlord was "a delight." The Oliver's team, he says, was "very aware that Three Lives was important to the neighborhood" and of the particular challenges that a business like his faces. (The near West Village has some of the higher per-square-foot costs around, making it a tough climate for non-luxury-goods businesses. The profit margin on books selling for $25 cannot easily compete with that of Marc Jacobs sweaters selling for $1,000. But the business is not impossible, either, as we have reported in recent stories.) Oliver's managing partner David Wine echoes the same idea in the letter Cox is sending out to his customers: "We know how beloved Three Lives is in the West Village and we're thrilled to provide it with stability." Go buy a book, everyone.