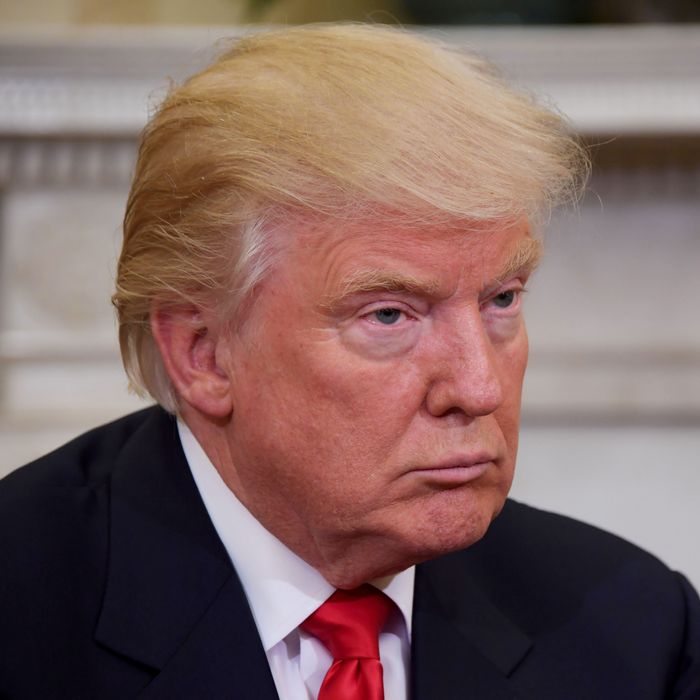 Beat the press.
Photo: Jim Watson/AFP/Getty Images
Major-party presidential candidates typically start planning for how they will staff their potential White Houses well before Election Day. This is because putting together a presidential administration is an enormous task, and the ten weeks between when the ballots are counted and the president is inaugurated are seen as insufficient for properly executing it.
But Donald Trump refused to plan for his White House transition because he did not want to "jinx" himself. He also spent his campaign attacking or alienating vast swaths of the Republican intellectual class, which has left him with a motley team of advisers, composed of the most unscrupulous partisan hacks, far-right media personalities, genuine lunatics, and his own children. Many of these people are personally and ideologically at odds with each other. Few have experience with White House transitions.
This has led to a series of shake-ups, resignations, delays, and miscommunications. On Tuesday night, the Huffington Post reported that "transition officials had been informally asking Obama political appointees to recommend Republicans to take over their jobs." Meanwhile, foreign leaders struggled to discern how and when to contact the new president or his go-betweens. Amid widespread reports of such chaos, Donald Trump assured America that the process was proceeding as smoothly as an episode of The Apprentice.
The New York Times was among the many papers to report on these events. And so, the president-elect woke Wednesday morning and decried the "failing" newspaper in a Twitter rant.
The Gray Lady isn't the only media institution Trump antagonized over the past 24 hours. On Tuesday night, the president-elect failed to alert his press pool before heading to dinner at the '21' Club in Manhattan. President-elects typically grant full access to this select gaggle of reporters, as a gesture toward transparency and the public's right to have an eye on its leader, and a historical record of his (or maybe, someday, her) activities.
Trump had previously ditched the press pool during his historic trip to the White House to meet President Obama, when he refused to allow reporters to board his private plane.
Trump has not held a press conference since mid-summer, let alone since his election. The mogul courted media attention aggressively for most of his presidential run, often giving multiple, lengthy press interviews in a day. But now that Trump has secured power, there's reason to think he may get more camera shy, as MSNBC's Chris Hayes argues.
But while the press, foreign leaders, and many members of vulnerable minority groups are feeling anxious about President Trump, the mogul remains a beloved tribune of the white nonworking class in the heartland of Manhattan.