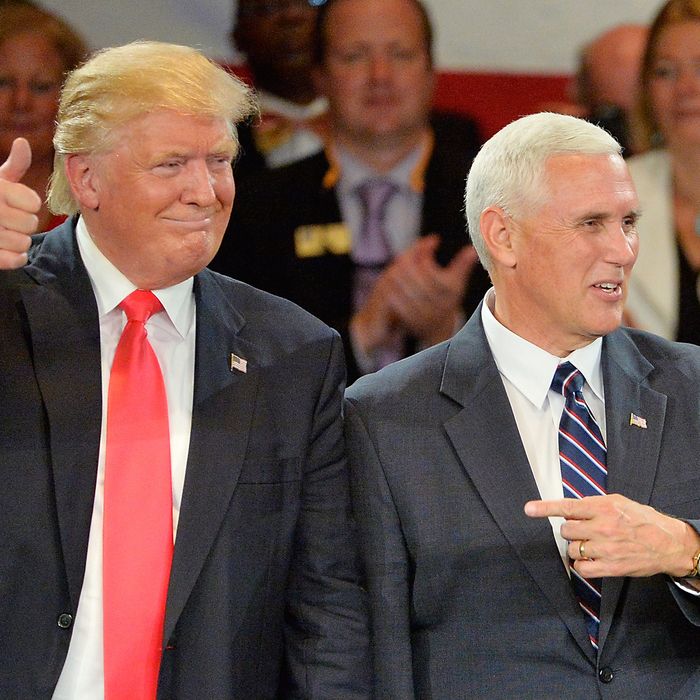 Photo: Sara D. Davis/Getty Images
Donald Trump hasn't held a lead in a single poll in Minnesota this cycle. The North Star State hasn't voted for a Republican presidential candidate in more than four decades. But the mogul needs an upset somewhere, and there are a lot of white people in Minnesota.

Thus, Trump will be campaigning in Minneapolis on Sunday, while Mike Pence will be in the state on Monday, NBC News reports.
"We're going up to Minnesota which, traditionally has not been Republican at all. And we're doing phenomenally. We just saw a poll," Trump announced at a rally in Florida on Saturday.
It's certainly possible that the Trump campaign saw something favorable in its internal polling. While he's never led in a poll of Minnesota this year, he has been tied in several. But Trump's trip north is likely motivated as much, if not more, by unfavorable things his campaign has seen in public data.
Early-voting data show a surge in Latino turnout across several battleground states. In Nevada, that spike was large enough to provide Democrats with a bigger pre–Election Day advantage than they enjoyed in 2012 — when Barack Obama won the state by nearly seven points.
So, it looks like Hillary Clinton will very likely take the Silver State. And if she does, it won't be enough for Trump to win the remaining toss-ups — to triumph on Tuesday, he'll need to paint a blue state red.
From one angle, Minnesota looks like a ripe target for the mogul. Trump's strength with non-college-educated whites has given him the upper hand in other Midwestern states like Ohio and Iowa. By contrast, Clinton's lead in national polls is built on her landslide margins with nonwhite voters. And Minnesota has relatively few of those: The population of Ohio is 83 percent white; for Minnesota, that figure is over 85 percent.
But Minnesota is also one of the most highly educated states in the country, with roughly a third of its residents holding bachelor's degrees. Only about a quarter of Ohio residents bear such diplomas. And Clinton leads Trump by 11 points among white voters with college degrees, according to Bloomberg's aggregation of recent national polls.
Still, there are crazier gambits for the Trump campaign than trying to turn Minnesota red. As of this writing, FiveThirtyEight puts Clinton's polling advantage in the state at a mere five points, which is comparable to her lead in Pennsylvania. And Minnesota has been surveyed much less than the Keystone State this cycle, making the possibility of a major-polling error there more likely.
The Clinton campaign, for its part, is treating Trump as a legitimate threat in another blue Midwestern state.
Trump has trailed in nearly every poll of Michigan this year. But it's unlikely that the Clinton campaign would send both its candidate and best surrogate to the state if their internal polling didn't show Trump with at least an outside chance there.
That said, Clinton could be reacting primarily to her good news out of Nevada. As already mentioned, if the Silver State's out of play, Trump needs to cut into blue territory. It would make sense for Clinton to spend some time defending her strongholds, even if her campaign didn't believe the race was especially close in them.