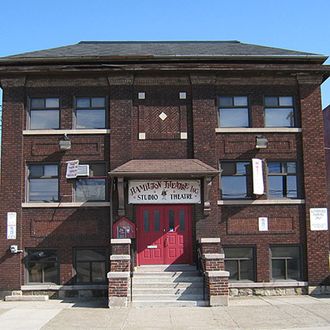 Photo: Hamilton Theatre Inc.
On Friday night, Vice-President-elect Mike Pence attended a performance of Hamilton: An American Musical in New York City. Before the show, people in the crowd audibly booed him, which, sure. The cast of Hamilton consists of dozens of people of all colors, creeds, and heritages, and the current actor in the titular role, Javier Muñoz, has spoken publicly about both being gay and HIV positive. Not exactly a crowd you'd expect to be cheering for Pence, given his political history.
Now — because the MAGA crew hasn't realized that there is no point in "boycotting" a show that is already sold out for months — Trump and Pence defenders on Twitter are leading a crusade against the show. Which would be fine, I guess, but if you're going to hate-tweet you should probably tag the correct Hamilton. Instead of @-ing Broadway's Hamilton, some on Twitter have been wrongly directing their tweets at the Hamilton Theatre in Ontario, which is currently mounting a production of The Toxic Avenger, a show in which a man in New Jersey is dumped into a vat of toxic sludge and emerges as a "seven-foot mutant freak with superhuman strength and a heart as big as Newark." Easy to see how people got confused here.
Weirdly, this isn't the first time a Pence-related Twitter mix up has put a random person/place in the crossfires of political Twitter. User @MikePence, who is not that Mike Pence, has been having a hell of a time since Trump announced the Indiana governor as his running mate back in July. Still, here's hoping the Hamilton boycott makes it easier for the rest of us to get tickets sometime before the next presidential election, in 2020.