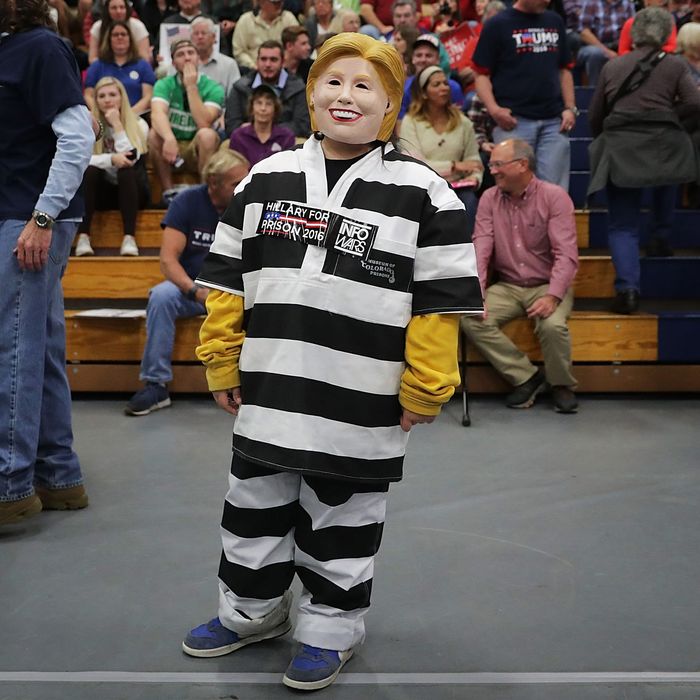 Trump is dashing one of his core supporters' most cherished fantasies.
Photo: Chip Somodevilla/Getty Images
Trump's most avid supporters will have to abandon long-cherished fantasies of the 2016 Democratic presidential nominee doing a perp walk, sitting in the dock, absorbing a guilty verdict, putting on the orange jumpsuit, and so forth. Trump memorably told Clinton in a presidential debate that he'd put her in jail. His base seemed to take him at his word. This morning, to their surprise and chagrin, Kellyanne Conway blandly announced he was dropping the idea of unleashing prosecutorial hounds on Hillary Clinton:
President-elect Donald Trump's administration will not pursue further investigations of Hillary Clinton related to her private email server or the Clinton Foundation, Trump's former campaign manager Kellyanne Conway said Tuesday, a significant break from a major campaign promise.

"I think when the President-elect, who's also the head of your party, tells you before he's even inaugurated that he doesn't wish to pursue these charges, it sends a very strong message, tone, and content" to fellow Republicans, Conway said in an interview on MSNBC's "Morning Joe."
The interesting thing about Conway's wording of this bombshell is that it implies the decision to pursue Clinton to the ends of the Earth with truncheons and handcuffs was not, after all, in the hands of the Leader. That has been the consensus opinion of legal beagles all along. Conway appears to be saying that Trump's putative attorney general, Jeff Sessions, will upon assuming his office notice this "message" from his boss and toss any plans to appoint a special prosecutor to continue the Clinton investigations into the nearest shredder.
In truth, any post-election vendetta against Clinton would have diverted resources and media attention away from more urgent tasks the new administration might want to undertake. The only threat to Trump she poses now involves that slowly but steadily rising popular-vote plurality she won in the presidential contest. As for the atmospherics of it all, Team Trump might be saving up political capital for something more fruitful, like abrogation of treaties or executive orders that dwarf all precedents in scope.
Right on cue, the right-wing legal group Judicial Watch freaked out:
Judicial Watch, a conservative watchdog agency that sued to get more of Clinton's State Department emails released, urged Trump on Tuesday to "commit his administration" to investigating Clinton, while promising to continue its own litigation and investigations to help uncover possible scandals.

For Trump to refuse to do so "would be a betrayal of his promise to the American people to 'drain the swamp' of out-of-control corruption in Washington, DC," Judicial Watch President Tom Fitton warned in a statement. "President-elect Trump should focus on healing the broken justice system, affirm the rule of law and appoint a special prosecutor to investigate the Clinton scandals."
And Ann Coulter sputtered on Twitter:
On right-wing talk radio there were a lot of hurt feelings, from Rush Limbaugh and others. And even the loyal Trumpists of Breitbart initially headlined the Conway story with the screaming headline "BROKEN PROMISE." It was later taken down — we might never know whether that decision was prompted by a text message from Stephen Bannon.