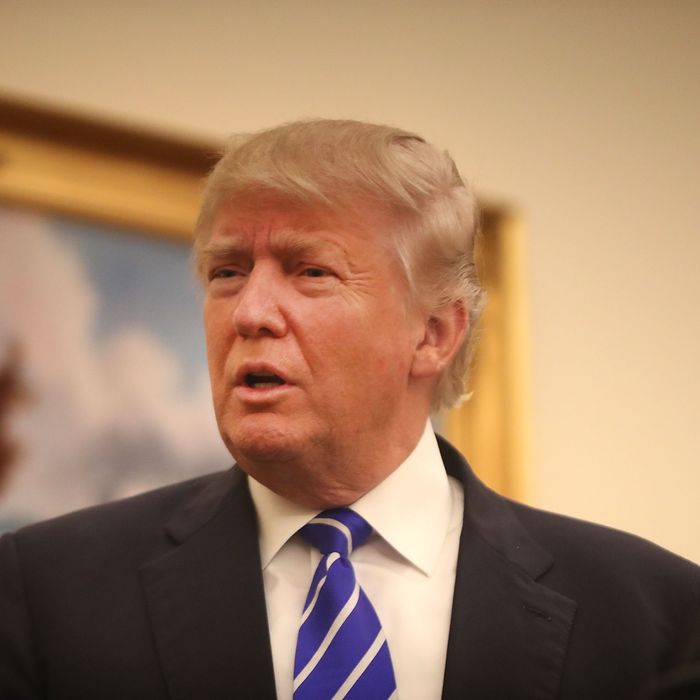 Trump is already solving our imaginary problems.
Photo: Spencer Platt/Getty Images
Donald Trump revealed on Thursday night that he's already Making America Great Again, just nine days after he was elected president. The president-elect tweeted that he'd just talked to Bill Ford Jr., the chairman of Ford Motor Company, and he'd agreed not to move a plant from Kentucky to Mexico:
In fact, Trump hadn't just been notified of Ford's decision. He personally worked with Ford to save American jobs!
Actually, not "in fact." Ford has two plants in Kentucky, and neither one was ever moving to Mexico. The company had announced it would move production of a single line — the Lincoln MKC — out of Kentucky, and tonight the company confirmed it was not headed to Mexico after all. But preventing that shift would not have saved any American jobs. As the Washington Post explained, union leaders said at the time that no U.S. jobs would be lost; the Louisville Assembly Plant would just produce the Ford Escape rather than the MKC.
Regardless, several news outlets — including Reuters — ran headlines or entire articles that suggested Trump had saved a Ford plant in Kentucky.
Ford responded with this statement:
We continue to engage with President-elect Trump's team — and the new Congress — as they shape the policy agenda for 2017. We have shared our commitment to continue investing in the U.S. and creating American jobs — building on the $12 billion we have invested in our U.S. plants and the nearly 28,000 U.S. jobs Ford has created in the past five years. Ford continues to employ more American autoworkers and produce more American made vehicles than anyone.

Today, we confirmed with the President-elect that our small Lincoln utility vehicle made at the Louisville Assembly Plant will stay in Kentucky. We are encouraged that President-elect Trump and the new Congress will pursue policies that will improve U.S. competitiveness and make it possible to keep production of this vehicle here in the United States.
The Wall Street Journal suggested in its headline that Trump had been vindicated: "Ford Confirms Donald Trump Tweet, Won't Move Lincoln Production Out of Kentucky." But Trump referred to the Lincoln plant, not Lincoln production. Four paragraphs in, the paper mentions, "The Louisville plant, employing about 4,700 workers, wasn't in danger of closing."
According to ABC News, it's unclear when the company decided to keep Lincoln MKC production in Kentucky. When asked to clarify whether Trump was responsible for the decision, a Ford spokeswoman just reiterated part of the statement.
During the campaign Trump repeatedly attacked Ford for shipping U.S. jobs to Mexico. Earlier this week, Ford said that despite Trump's complaints, it's still moving production of the Ford Focus to Mexico. The company said that move won't affect U.S. jobs either, as the Michigan plant will continue manufacturing other vehicles.
This isn't the first time Trump has falsely claimed credit for saving a Ford plant. In October 2015, he tweeted:
Trump was responding to a fake news article with the headline "Trump successfully pressures Ford to move Mexican plant to Ohio," which said Ford would halt production on its $2.5 billion factory in Mexico and move to "struggling Youngstown, Ohio." The article was fake; Ford continued building the factory in Mexico and has no facility in Youngstown.
A few weeks earlier, Bill Ford said he felt Trump's frequent attacks on the campaign trail were unfair because Ford is trying to keep jobs in the U.S. "That's what is so frustrating and at a certain point infuriating," he said. "I feel like we've not only invested heavily in this country and are adding lots of new jobs in this country, but I think [Trump] and others should look at us and say that's how you do business. You pay back your loans and you hire people and you invest in [the U.S.]"
Ford said he'd met with Trump, and "he knows the facts – but who knows what the campaign trail is all about."
Whatever it was, apparently that's what the Trump presidency is all about too.