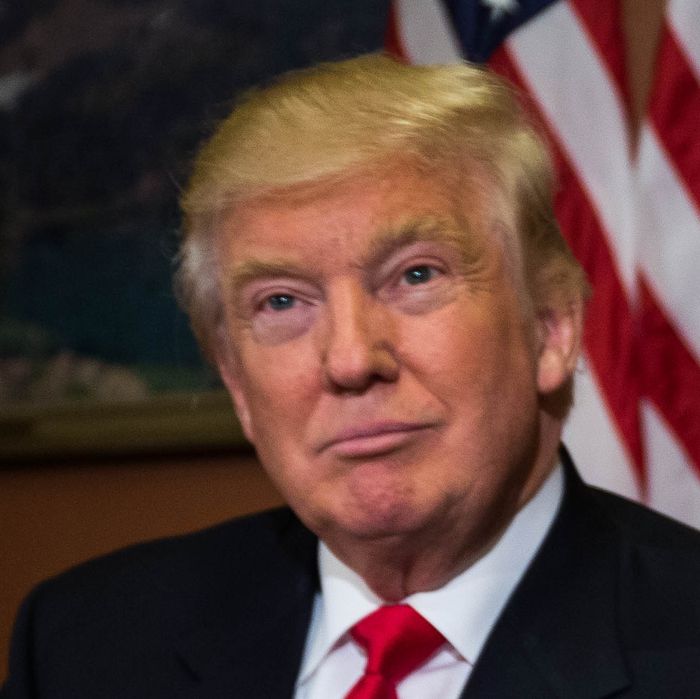 The Twitterer-in-Chief.
Photo: Zach Gibson/Getty Images
In a 60 Minutes interview set to air Sunday night, Donald Trump told CBS correspondent Lesley Stahl that he will continue to use Twitter as president, but claimed that "I'm going to be very restrained, if I use it at all, I'm going to be very restrained." Putting aside for a moment whether Trump means he will restrain himself, or be restrained from using Twitter by advisors, he also celebrated how social media was essential to his victory, and specifically how it allows him to fight back against the press:
It's a great form of communication. Now do I say I'll give it up entirely? I'm not saying I love it, but it does get the word out. When you give me a bad story or when you give me an inaccurate story or when somebody other than you and another – a network, or whatever, 'cause of course, CBS would never do a thing like that right? I have a method of fighting back.
It should come as no surprise, then, that on Sunday morning Trump tweeted out yet another attack on the media, this time claiming that the New York Times was losing subscribers because of their "BAD" coverage of him, falsely stating that the Times had apologized to its readers for that coverage, and falsely stating that he has never said that more countries should have nuclear weapons. In other words, Trump is doing exactly what he has always done, regardless of what happened on Tuesday:
And of course, those tweets follow a much worse one on Wednesday in which the future president, in a double-barrelled shot at the First Amendment, accused the media of inciting professional protesters to oppose his election.

So, while Trump's advisors were finally able to temporarily take away his access to Twitter during the waning days of the campaign, there is, at present, no reason to presume that Trump will use his Twitter account any differently as president than he did as a candidate. In fact, it's not even clear if Trump will abandon his campaign-style mindset: A report came out on Saturday claiming he wants to continue holding large political rallies around the country when he's president because they make him feel good about himself.
Furthermore, in addition to Trump's unrelenting attacks on the media over the course of his campaign, he has already vowed to use the powers of the presidency to target both news organizations who he believes have treated him unfairly and to open up libel laws so that it's easier for people like him to go after the press in court. If President Donald Trump wants vengeance against his perceived enemies, unrestrained tweets should be the least of everyone's worries.