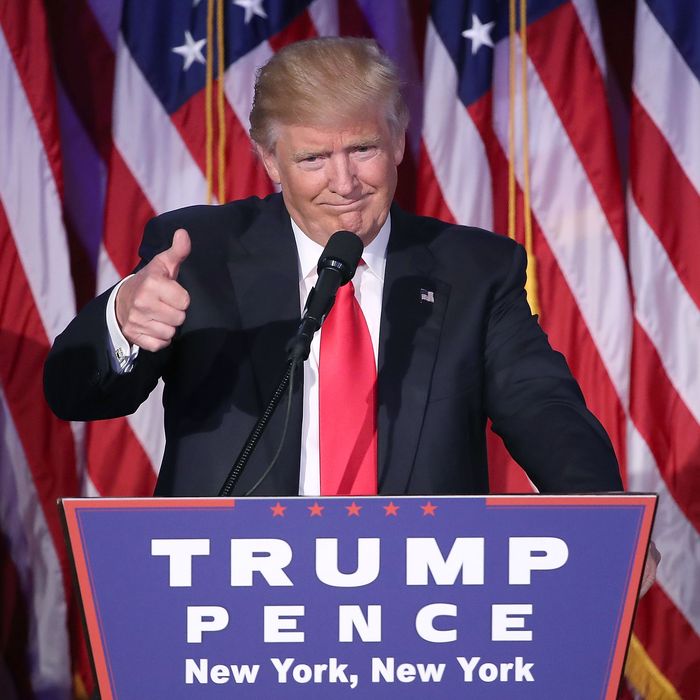 "Those responsible for sacking the people who have just been sacked have been sacked."
Photo: Mark Wilson/Getty Images
There's an understandable temptation to compare any bit of drama within the Trump team to a reality show. On Tuesday night, the president-elect signaled that he's completely fine with that:
The idea that Donald Trump views potential members of his cabinet as akin to contest "finalists" is actually the least disturbing thing to emerge about the transition process.
It was reported last week that the Trump team was unaware that they would have to replace nearly 3,800 political appointees currently working for the Obama administration. When you run on the message "drain the swamp" and wage war on Establishment Republicans, it's hard to find qualified government employees to staff your administration. To make matters worse, after leading Trump's transition planning for months, on Friday Chris Christie was replaced by Vice-president-elect Mike Pence.
By Tuesday, the situation had devolved into "an absolute knife fight," one Trump insider told Politico. Amid rumors of bizarre potential cabinet picks — like Rudy Giuliani for secretary of State — former congressman Mike Rogers, the transition's senior national-security adviser, left the team on Monday. Rogers is a widely respected former House Intelligence Committee head, who many hoped could provide stability in the Trump administration. He was replaced by Frank Gaffney, who is famous for spewing Islamophobic conspiracy theories.
Rogers was diplomatic in interviews on Tuesday. "Is there a little confusion in New York? I think there is," he told CNN. "I think this is growing pains." However, he appeared to confirm reports that people are being pushed out of the transition team owing to their ties to Christie. (Though Laura Ingraham suggested Rogers was ousted because his House committee produced a Benghazi report that angered the "13 Hours guys.")
"Sometimes in politics … there are people who are in and people who are out. And the people who have been asked to move on have some relationship with Chris Christie," Rogers said.
As Rogers noted, that's "absolutely the campaign's prerogative" — and it's not surprising that they would want to distance themselves from an official who could be facing legal issues. However, it doesn't appear that Bridgegate is what soured Christie's relationship with Trump. NBC News reported that he was pushed out because he was seen as insufficiently loyal to Trump, failing to vigorously defend him after stumbles like the Access Hollywood video.
Other outlets said Trump's son-in-law and adviser, Jared Kushner, was getting back at Christie for sending his father to jail. Working as a federal prosecutor in 2004, Christie went after Kushner's father for tax evasion, witness tampering, and illegal campaign contributions.
Another Christie source told CNN that reports of a "purge" were "overblown," and the Trump team pushed back against the tales of chaos in Trump Tower. "In the six days since the election our team has made significant progress and we are not going to rush these important decisions," Trump spokesman Jason Miller said.
The Trump team did manage to make some progress on a paperwork issue. On Tuesday night, the Obama administration finally received a memorandum of understanding signed by Pence that will allow them to begin discussions on handing off control. Government officials have been preparing for the transition for months, and according to the Huffington Post, some on Trump's staff thought they may be able to help them out of this predicament:
One Democratic source, who like others would only discuss sensitive talks on condition of anonymity, said transition officials had been informally asking Obama political appointees to recommend Republicans to take over their jobs.
Others said the situation isn't quite that bad yet, but it still appears that the transition is far from an "organized process," as Trump claims. The New York Times reports that some prominent American allies have no idea how to reach the president-elect, and resorted to "blindly dialing in to Trump Tower to try to reach the soon-to-be-leader of the free world."