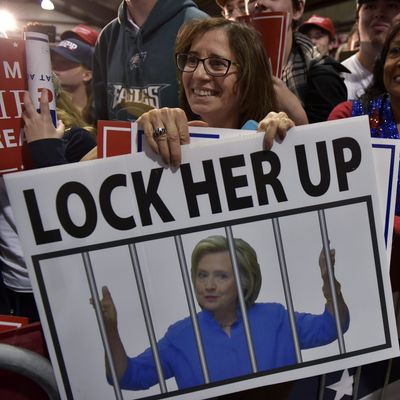 Trump supporters at a rally in Leesburg, Virginia, on November 7, 2016.
Photo: MANDEL NGAN/AFP/Getty Images
Donald Trump's initial reaction to FBI director James Comey announcing the reopening of the investigation into Hillary Clinton's emails was uncharacteristically terse. "I think it's the biggest story since Watergate," he said. "I think this changes everything."
On Sunday afternoon Comey offered another shock, announcing that the bureau has already completed its review of all the pertinent emails found on Anthony Weiner's laptop and "we have not changed our conclusions expressed in July with respect to Secretary Clinton." Unsurprisingly, Trump feels this changes nothing.
"Right now, she's being protected by a rigged system," Trump said at a rally in Sterling Heights, Michigan. "It's a totally rigged system. I've been saying it for a long time. You can't review 650,000 emails in eight days. You can't do it folks."
The FBI actually didn't review 650,000 emails. They developed a computer program that weeded out messages that might be relevant to the investigation into Clinton's private email server, and then reviewed those emails. There's no official word on how many emails were reviewed, but NBC News reports that "nearly all of the thousands of newly examined emails on Weiner's laptop were duplicates" of previously examined messages.
Nevertheless, Trump assured his supporters on Sunday that the investigations into Clinton's "crimes" will continue "for a long, long time." Then, alluding to the reportedly deep antipathy for Clinton within the FBI, which is not shared by the Justice Department, Trump promised, "The rank and file special agents at the FBI won't let her get away with her terrible crimes."
"Hillary Clinton is guilty. She knows it, the FBI knows it, the people know it, and now it's up to the American people to deliver justice at the ballot box on November 8," Trump said. "Unbelievable. Unbelievable how she gets away with it."
While Comey's latest announcement did't change Trump's opinion on Clinton's "crimes," it did shift his stance on the FBI. Two days ago he was effusive in his praise for the bureau and didn't distinguish between the "rank and file" agents supposedly set on taking Clinton down and their bosses.
"I've always had a lot of confidence in the FBI, I'll tell you," Trump said Friday during a rally in Ohio. "You have amazing people in the FBI, and they're not happy. They're not happy about what's happening. And they're not happy about the way they're being pushed around. And you don't push them around for long, believe me."