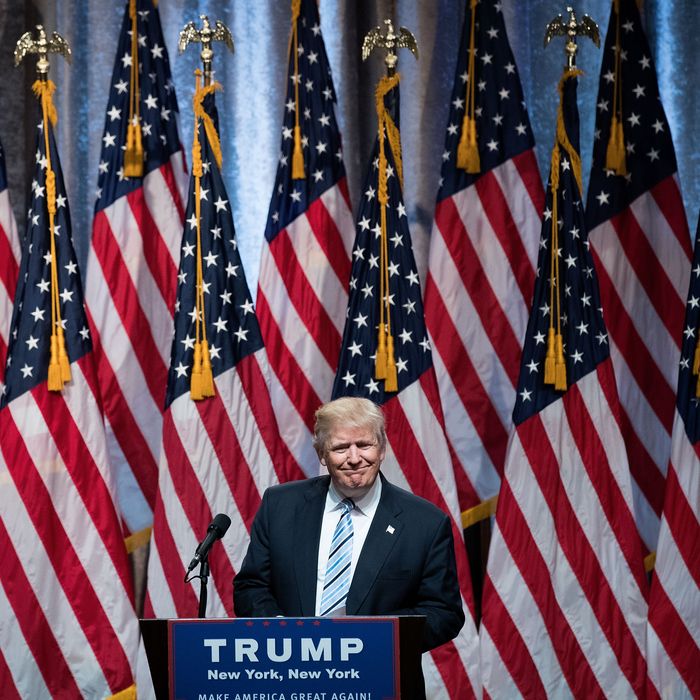 Trump held a similarly understated campaign event at the Hilton Midtown Manhattan on July 16, 2016.
Photo: Drew Angerer/Getty Images
Hillary Clinton announced last week that she will spend Election Night in a building with a literal glass ceiling, but Donald Trump is going with a far less metaphorically satisfying venue. The Trump campaign revealed on Wednesday night that his victory party will be held at the New York Hilton Midtown.
There's nothing wrong with the Hilton (it has a solid 3.5 stars on TripAdvisor), but Trump's name does not appear on the building and the candidate will not be able to do a super-classy escalator entrance. As the Washington Post notes, the party can't be held in the Trump Tower atrium because it's a privately owned public space. The city of New York fined Trump $10,000 for holding campaign events in that space.
The Hilton is four blocks away from Trump Tower, and about a 40-minute walk from the Jacob K. Javits Center, where Clinton is holding her victory party. The Trump campaign has rented the Hilton ballroom before, most notably for his weirdly self-centered introduction of running mate Mike Pence in July.
While huge rallies have been a hallmark of Trump's campaign, a source familiar with Trump's plans said the party in the Hilton ballroom will be relatively small. The person explained that Trump is "superstitious" and doesn't want to jinx things. "The event is invitation-only for friends and supporters of the Trump-Pence campaign," according to the release.
Clinton, on the other hand, is planning an Election Night fireworks display on the Hudson River, according to the New York Post. An anonymous NYPD detective called the move "a little presumptuous," but it's not uncommon. In 2012, Mitt Romney paid $25,000 for a fireworks display on Boston Harbor that never happened.