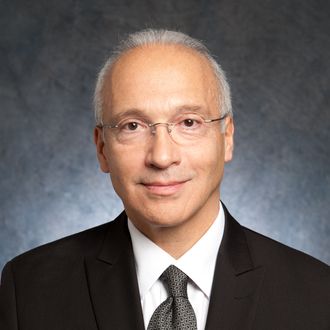 Here's some more fodder for the theory that Donald Trump doesn't plan to do a lot of the heavy lifting during his presidency. During a hearing on Thursday in the Trump University fraud lawsuit, which is set to begin on November 28, the president-elect's lawyers asked that the trial be moved to February or March, when he'll have less on his plate.
Trump attorney Daniel Petrocelli explained to reporters after the hearing that the transition period will be too intense for the president-elect to participate in the case, according to the Washington Post. Petrocelli called it a "very difficult circumstance for a sitting president — more so, I would say, for a president-elect, because he's turning, right now as we speak, to a mountain of challenges in front of him, to get himself up to speed."
Judge Gonzalo Curiel seemed skeptical about the wisdom of pushing the case to after January 20, but said he may allow Trump to testify via video link rather than in person. He said he'll probably issue a ruling by Monday.
As Petrocelli noted, a president-elect facing a civil fraud suit is "uncharted territory." The president can face civil litigation for actions that occurred before he took office, as the Supreme Court determined in the 1997 Paula Jones sexual-harassment case against President Clinton. But the Trump case raises unique issues. Trump's lawyers had argued that all campaign rhetoric — including his claim that Judge Curiel could not be impartial because of his "Mexican heritage" — should be excluded from the trial. Judge Curiel rejected that blanket request, but said they could argue against admitting specific testimony. Judge Curiel also said he's inclined not to allow the questioning of witnesses about their political affiliation.
In addition to the California case, Trump is facing a second federal class action over Trump University in New York. Altogether, the president-elect is involved in about 75 pending lawsuits.