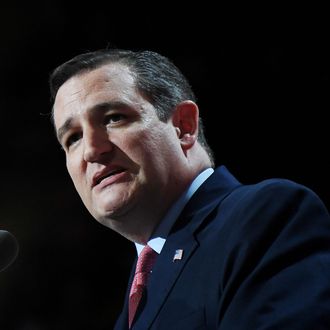 All the humiliation was worth it.
Photo: Jim Watson/AFP/Getty Images
Here's another previously unfathomable rumor to emerge from the chaos that is the Trump transition team. After Senator Ted Cruz — or Lyin' Ted Cruz, as he's known to Trump supporters — was spotted leaving Trump Tower on Tuesday, Bloomberg reported that he's under consideration for attorney general. CNN's Jim Acosta said he's on the "long short list."
When asked for comment, Cruz spokeswoman Catherine Frazier downplayed the speculation. "Cruz is focused on serving Texans in the Senate," she said. "He was there today to offer help in promoting the conservative policies that were campaigned on and that he's long fought for."
Meanwhile, Senator Lindsey Graham, who once joked about murdering Cruz on the Senate floor, suggested him for an even higher position: Supreme Court justice. "I added a name to the list: Senator Cruz. I think he'd get a lot of votes," Graham said.
We get it, Senator Graham: You really hate your co-worker. Can't you just stare at your phone when you pass him in the hall, like everybody else?