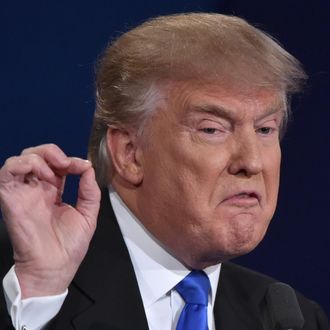 Enjoy photos like these before they're banned.
Photo: PAUL J. RICHARDS/AFP/Getty Images
A much-anticipated meeting between President-elect Donald Trump and influential media figures did not go exactly as anticipated. The off-the-record summit at Trump Tower was expected to be an opportunity for Trump to allay the media's fears about access during the presidency. Instead, according to sources speaking to the New York Post, network bosses, reporters, and anchors walked into something of an untelevised Apprentice episode in which they were all pretty much fired.
One unnamed source who was at the meeting said that it was "like a f**king firing squad." Trump kicked things off by addressing CNN president Jeff Zucker directly. "I hate your network," he allegedly said. "Everyone at CNN is a liar and you should be ashamed."
All parties agreed beforehand that the meeting would be off the record, and reports of what occurred diverged widely. Another source told CNN that "real progress was made," and others said that their concerns about the press pool that travels with the president at all times — and which Trump recently ditched to grab dinner — were addressed.
About 40 people met in one of Trump Tower's boardrooms, and according to several reports, journalists struggled to be heard as Trump subjected the whole room to a comprehensive dressing down.
Among the attendees were Deborah Turness, Lester Holt, and Chuck Todd from NBC; James Goldston, George Stephanopoulos, David Muir, and Martha Raddatz from ABC; Norah O'Donnell, John Dickerson, Gayle King, Charlie Rose, and Christopher Isham from CBS; Jeff Zucker, Wolf Blitzer, and Erin Burnett from CNN; Phil Griffin from MSNBC; and Bill Shine, Jack Abernethy, Jay Wallace, and Suzanne Scott from Fox News.
According to the Post, while the who's who of the mainstream media tried to ask questions, time and again they were interrupted by Trump, who allegedly kept repeating the same sentiment: "We're in a room of liars, the deceitful dishonest media who got it all wrong."
Trump's son-in-law Jared Kushner — a newspaper owner himself — was in attendance, as well as Trump adviser Stephen Bannon, the alt-right media executive. Even Trump's wife, Melania, made an appearance.
While another source described the day as a "total disaster," Trump spokesperson Kellyanne Conway had a different take. She called it an "excellent meeting … very cordial, candid, and honest … Pretty unprecedented meeting we put together in two days."
Trump is expected to meet with representatives of the New York Times — perhaps his greatest media foe — on Tuesday.