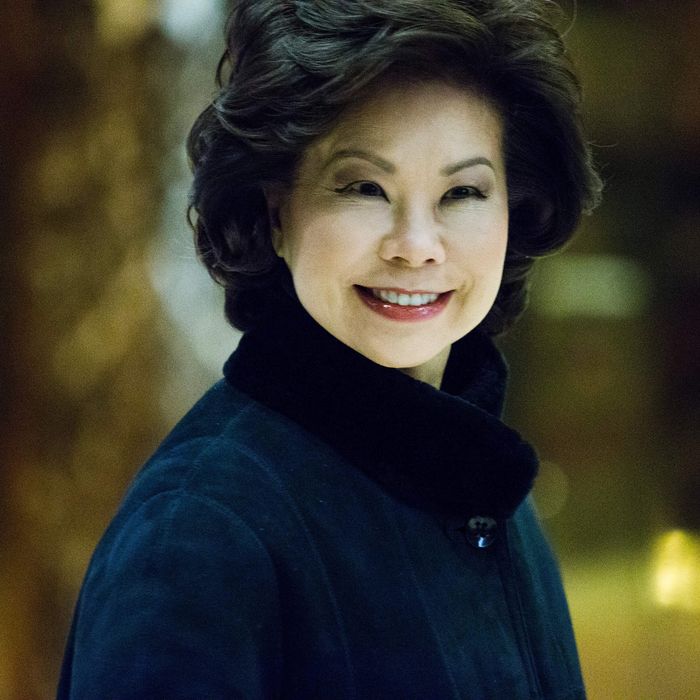 Elaine Chao.
Photo: Eduardo Munoz Alvarez/AFP/Getty Images
Donald Trump has named Elaine Chao as his pick for secretary of Transportation. Unlike some of Trump's other appointments, Chao has both experience in bureaucratic management and some expertise relevant to the area of policy she's been tasked with overseeing.
Chao served as secretary of Labor for eight years under George W. Bush, and worked as a deputy secretary of Transportation in his father's administration. Since leaving government, she's been a distinguished fellow at the Heritage Foundation.
Chao is also the wife of Senate Majority Leader Mitch McConnell — a fact of no small relevance in light of the president-elect's plans for infrastructure spending. As transportation secretary, Chao would play a role in working to pass an infrastructure bill through Congress, a goal that would require McConnell's cooperation. But the majority leader has, thus far, shown far less enthusiasm for rebuilding America's infrastructure than for throwing people off Medicaid and cutting taxes for wealthy people. Thus, it seems possible that Chao's unique capacity to lobby McConnell on infrastructure spending could have been a consideration in her selection.
Bizarrely, Chao would not be the first spouse of a Senate majority leader to serve as both secretary of Labor and Transportation — that distinction belongs to Elizabeth Dole.