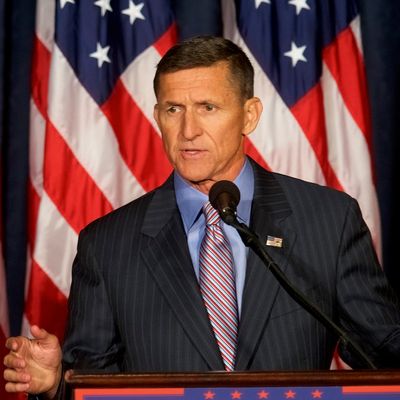 Photo: Mark Makela/Getty Images
Donald Trump has offered the position of national security adviser to retired Lieutenant General Michael T. Flynn, according to multiple news outlets. Unlike some names being floated for positions in Trump's administration — such as potential secretary of State Rudy Giuliani — Flynn has extensive experience in his field. During his 33-year career, the former three-star general dismantled militant networks in Afghanistan and Iraq and became head of the Defense Intelligence Agency.
Flynn was forced out of that position in 2014 owing to concerns about his leadership style, and since then he has publicly railed against President Obama, calling him a "liar" and describing the U.S. justice system as "corrupt." While many found it unseemly that the ex-military officer was publicly criticizing his old boss and hitting the campaign trail for Trump, that's not why Flynn is such a controversial pick for a position that would give him tremendous influence over defense and foreign policy. Since leaving the military, Flynn has repeatedly attacked Islam, cozied up to Russia, and lobbied for foreign interests even as he was sitting in on Trump's intelligence briefings.
Among his many issues with President Obama, Flynn has attacked him for being too politically correct, arguing in a recent book co-authored with conservative scholar Michael Leeden that the president failed to recognize "the war being waged against us." According to the New York Times, it was Flynn who convinced the president-elect that the U.S. is in a "world war" with Islamic militants. Flynn has said Islam is a "political ideology based on a religion," which he believes "the American Founding Fathers wanted nothing to do with," and he's even called it a cancer.
Trump and Flynn both believe that the U.S. needs to work more closely with Russia to defeat the threat of radical Islam, despite Russian president Vladimir Putin's human-rights abuses and aggressive action in Ukraine. Last year, Flynn was paid to give a speech in Moscow and appear at a gala for the TV network RT, where he was seated next to Putin. Flynn said he sees no difference between the Kremlin-funded outlet and U.S. media organizations like CNN.
Flynn has used social media to spread inflammatory messages from disreputable sources. He pushed conspiracy theories about Hillary Clinton using the hashtag #HillarysHealth, shared a fake news story, and retweeted a message that read, "Not anymore, Jews. Not anymore" (he later apologized). CNN reports that his son Michael G. Flynn, who serves as his chief of staff and top aide, "regularly shares conspiracy theories, expletive-filled posts, and racially insensitive sentiments on Twitter and Facebook." These include claims that Clinton aide Huma Abedin has ties to the Muslim Brotherhood, and that Marco Rubio is a closeted homosexual who participates in cocaine-fueled sex parties. The Times reports Flynn made dubious claims in real life as well, prompting subordinates to coin the term "Flynn facts."
In another similarity with Trump, Flynn's business has raised concerns about conflicts of interest. The Flynn Intel Group, his consulting firm, has ties to businesses in the Middle East, and was hired by a Dutch company owned by a close ally of Turkish president Recep Tayyip Erdogan. Yahoo News revealed on Thursday that Flynn sat in on Trump's intelligence briefings in August, even as he was working with foreign clients. Flynn issued a statement saying, "If I return to government service, my relationship with my company will be severed, in accordance with the policy announced by President-elect Trump."
Flynn has yet to officially accept the position in Trump's administration, but some have already dismissed him as a far too impulsive and conflicted choice for such a sensitive position — though that's a tough argument to make these days.
"Ideally, the president-elect, who strikes me as someone with an impulsive personality, ought to have someone who is a stable hand smoothing out the rough, impetuous edges of the president," Adam Schiff, the top Democrat on the House Intelligence Committee, said on Thursday. "The impression I have of General Flynn is that he has a like personality to the president-elect."