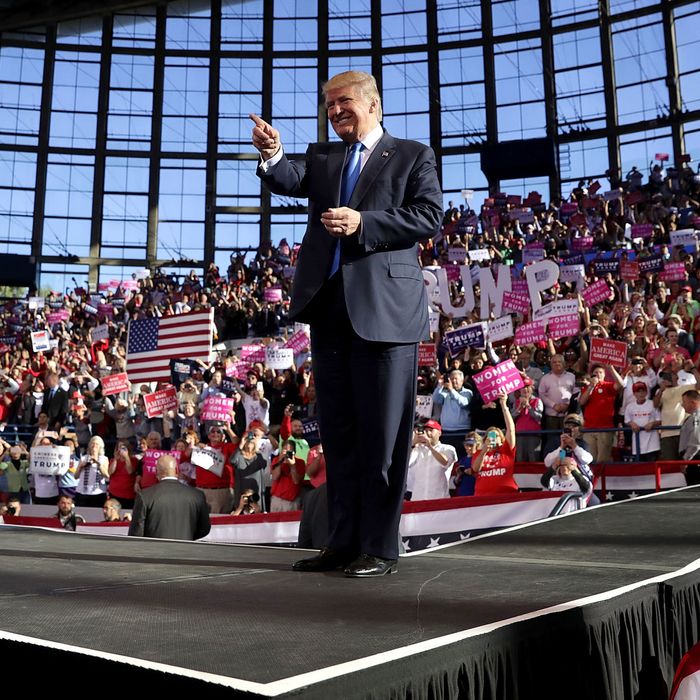 Make Trump feel loved again.
Photo: Chip Somodevilla/Getty Images
Donald Trump will soon embark on a "victory tour" of the states that backed him on Election Day, a campaign aide told reporters on Thursday.

"We're working on a victory tour now; it will happen in the next couple of weeks," George Gigicos, the campaign's advance team director, told pool reporters. The tour will send the president-elect "obviously to the states that we won and the swing states we flipped over," Gigicos added.
Last week, the New York Times reported that Trump intended to continue giving large rallies as president, so as to enjoy the "instant gratification and adulation that the cheering crowds provide."
But even in light of that reporting, this "victory tour" proposal seems bizarre. For one thing, Trump is already months behind on staffing his White House, and the first week of his postelection transition efforts was characterized by infighting, purges, and chaos. Traveling the country in search of validating applause really shouldn't be on the top of the president-elect's list of priorities.
Beyond that, Trump spent the final, triumphant night of his historically divisive campaign promising to reach out to his detractors and unify the nation.
"I pledge to every citizen of our land that I will be president for all Americans, and this is so important to me," Trump said in his victory speech. "For those who have chosen not to support me in the past, of which there were a few people, I'm reaching out to you for your guidance and your help so that we can work together and unify our great country."
It's hard to see how going on a tour of the country — that deliberately bypasses every state that voted for Hillary Clinton — will help Trump show that he's the president for all Americans.