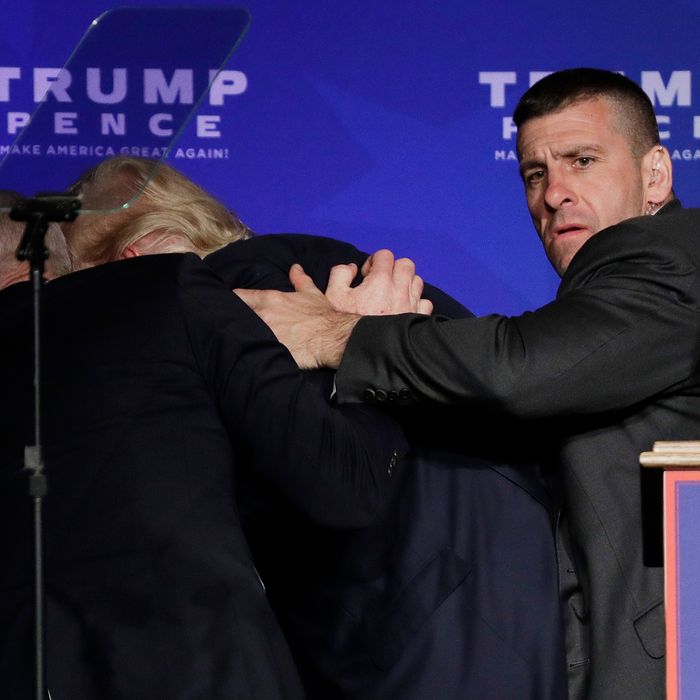 The moment Trump was pulled from the stage.
Photo: John Locher/AP
Donald Trump was rushed offstage by Secret Service agents at a rally in Reno, Nevada, on Saturday night after someone in the crowd shouted "gun" during a confrontation between Trump supporters and a protester. The man did not have a gun, however, and later told reporters that he was in fact attacked by Trump supporters for silently holding a "Republicans Against Trump" sign. Here is video of Trump being pulled offstage, mid-speech, by Secret Service agents:
The protester, a 33-year-old Reno resident named Austyn Crites, later told The Guardian that he had just walked up to the front of the crowd during Trump's speech and then held up his sign. That quickly caused a commotion as Crites said that supporters around him started booing and then eventually started getting violent and tried to take his sign away. According to the New York Times, Trump noticed the disturbance as well, and said from the stage, apparently about Crites, "We have one of those guys from the Hillary Clinton campaign. How much are you being paid, fifteen hundred?"
The violence intensified, according to Crites, as the crowd then piled on, punching, kicking, and grabbing him. One man put him in a headlock, and others were also putting pressure on his neck, which made Crites fear for his life. It was sometime during this pile-on that at least one person in the crowd shouted about a gun, and that's when the Secret Service rushed Trump away and agents and Reno police officers descended on Crites, while many in the crowd panicked.
Crites was detained and escorted out of the rally in handcuffs, though he said police had to defend him from more attacks by Trump supporters as they walked him through the room, a regular occurrence at Trump rallies this year when protesters have been escorted away. Crites was later released after passing a background check. The Secret Service confirmed that no weapon was found, and the Times notes that all rallies for Trump and Hillary Clinton feature security checks at the entrances with metal detectors and bag searches.
Apparently a media cameraperson didn't fare so well with the crowd during the incident, either:
Trump was soon back onstage after the disturbance and said to the crowd that "Nobody said it would be easy for us. But we will never be stopped. Never. Ever." The campaign later released an official statement from Trump thanking the Secret Service and police for their response as well.
Meanwhile, others in the Trump campaign later falsely and irresponsibly highlighted the incident as an "assassination attempt." As the Washington Post points out, both Donald Trump Jr. and top social-media aide Dan Scavino Jr. retweeted this: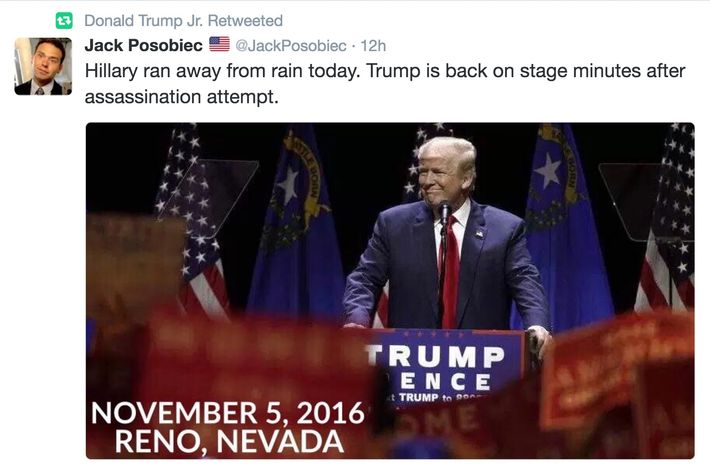 Trump Jr. also retweeted a call to "stop Democrat violence" afterwards, and at Trump Sr.'s next and final rally of the night, in Denver, Colorado, the opening speaker told the crowd that, "Tonight I think the hate a lot of the media raised against him caused an attempt of murder against him in Nevada."
Crites told The Guardian that he has been a registered Republican for six years and now plans to vote for Clinton and has canvassed for her; though, he insists he is supporting her only because he thought she had the best chance to defeat Trump. He also insisted that he was at the rally of his own volition. Here is his account of, and response to, the altercation: