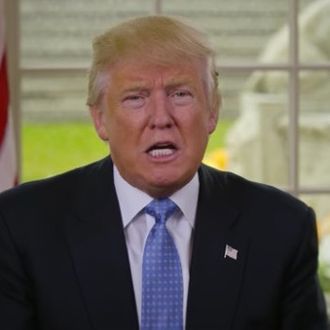 A large portion of the American public has been uneasy, to put it mildly, following the election of Donald Trump, and the president-elect has done little to calm their fears. He did tell those committing hate crimes to "stop it" during an appearance on 60 Minutes, but otherwise his public communications in the last week have been limited to attacking the press, criticizing the cast of Hamilton, spreading false information about a Ford factory, and posing for weird photos with potential cabinet members as he greets them at his New Jersey golf club. (See Trump pointing at Kansas Secretary of State Kris Kobach, who forgot to cover up his plan to reinstate a registry for Muslims entering the country.)
On Monday evening, Trump finally tried to assure the public that he has a plan to "make America great again for everyone — and I mean everyone." While this is traditionally done via press conference, Trump went with a two-and-a-half-minute YouTube video.
In the clip, Trump lists the policies he plans to begin implementing on day one: withdrawing from the Trans Pacific Partnership, asking military officials for a plan to protect the U.S. from cyberattacks, directing the Department of Labor to investigate visa abuses, and eliminating two old regulations for every new regulation.
He also promises to "cancel job-killing restrictions on the production of American energy — including shale energy and clean coal — creating many millions of high-paying jobs." As the New York Times notes, it's unclear what restrictions he's talking about or how canceling them would create millions of jobs.
Notably absent from the video are all of the controversial Trump proposals that have people so concerned, such as repealing Obamacare, building a southern border wall, defending NATO allies only if they've "fulfilled their obligations to us," and the aforementioned Muslim registry.
Kathleen Hall Jamieson, a professor of communications and the director of the Annenberg Public Policy Center at the University of Pennsylvania, told the Times that Trump is trying to project an image of inclusiveness — though he spent much of the last week hiring racists. "What it does is cast him as presidential, because it establishes that the things that he forecasts are important to the electorate as a whole and he's not emphasizing the divisive elements that you would have expected to dominate his presidency," Jamieson said. "He's signaling to his base, 'See, I'm keeping my word,' but he's signaling to the world, 'See, I'm going to be a president for all the people.'"

Trump concludes the video by promising to "provide more updates in the coming days." Trump spokesperson Kellyanne Conway said he will hold a press conference "soon," but that seems even less likely after the president-elect reportedly berated the media during a private meeting. President Obama regularly releases statements via social media, but as Engadget notes, he also held a formal press conference three days after he was elected, laying out plans for his transition and taking questions from reporters. Here's a reminder of what normal looks like: